Invent an intriguing musical instrument
Take the challenge set by musician and beat-maker Annalise and discover how to make musical instruments with objects around your home!
Annalise Morley is a musician, teacher and beat-maker from south London. She enjoys getting creative with sounds by using all kinds of unusual objects around her home to make music. She also runs a club for children and young people called Beats Lab to teach people how to write their own music.
CHALLENGE PACK
Download the full set of activities to get started on this maker challenge.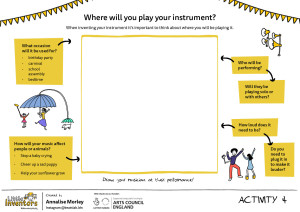 How to enter!
You can submit more than one invention idea.
Submit invention ideas through our upload page.
Each invention idea will comprise of an image of a clear drawing, the name, age and location of the inventor, the name of the invention and a description, and a contact email address.
Examples of scanned images
Great
Not so good