Who are Little Inventors?
Little Inventors is the brainchild of artist and designer Dominic Wilcox, in collaboration with expert educationalists, designers and curators.
What is Little Inventors?
Little Inventors takes children's invention ideas and makes them real.
We believe that children's amazing invention ideas are a valuable contribution to the world. They shouldn't just be stuck to a fridge door and forgotten.
Our aim is to inspire and support children around the world to use their wonderful imaginations to think up ingenious, fantastical, funny or perfectly practical invention ideas with no limits! The children and the Little Inventors team work with experts and professionals to turn the most innovative ideas into real objects for amazing Little Inventor exhibitions. (All children retain the copyright in their invention drawings).
Littleinventors.org is the central place for children to share their invention ideas with other children (and adults!) across the globe.
Children can freely upload their ideas to this website for positive and encouraging feedback from the Little Inventors team led by Chief Inventor Dominic Wilcox.
Teachers and parents can download the free Little Inventors workshop resources, and share the invention ideas that are generated back on Littleinventors.org. These free resources offer many links to support the curriculum in primary schools in Art and design, Science and Literacy particularly.
We work with schools, museums, hospitals and other child focused organisations to run Little Inventors workshops. These workshops inspire the children by showing interesting and fun invention ideas and challenging the children to think up and draw their ideas, before making a prototype using everyday materials.
The best ideas submitted to littleinventors.org will be brought to life by being animated, or even made into reality by our Magnificent Makers such as craftspeople, manufacturers and the digital making community.
How it all started
When our Chief Inventor Dominic Wilcox was a young man he was inspired by a tutor called Charlie Holmes who showed Dominic books of unusual invention ideas. Charlie asked Dominic to have a go at inventing himself. Dominic found that he could do it – that he enjoyed doing it – and has been doing it ever since, showing his work in famous museums around the world.
In late 2015, Dominic returned to his home town of Sunderland in the North East of England where he was first inspired and asked 450 children to think up their invention ideas. He then asked local makers and manufacturers to make the best ideas into real things.
Instead of putting children's drawings on the fridge, why not push an idea as far as it can go?
The project, commissioned by The Cultural Spring, started with 19 inventing workshops in and around Sunderland with children aged from 4 to 12. Dominic gathered just over 600 invention drawings from the odd and absurd to the brilliantly clever. He and the local professional makers picked out their favourite ideas and they were then made into reality. The results were shown in the INVENTORS! Exhibition, which ran in January 2016 and was a huge worldwide success with coverage on CNN International and The Discovery Channel to name just a few.
With the huge success of the project it was decided to take it worldwide, so that all children in the world could take part. Little Inventors was born.
Our Chief Inventor
Dominic Wilcox is a world renowned inspirational inventor, designer and artist who creates innovative and thought-provoking objects.
His work has been exhibited in museums and galleries around the world including the V&A and London's Design Museum. He has been commissioned by famous brands such as BMW, Nike, Kellogg's and Paul Smith.
He is on a mission to inspire the world's children to come up with their own extraordinary, ingenuous, or just plain brilliantly bonkers creations.
I've convinced myself that within everything that surrounds us, there are hundreds of ideas and connections waiting to be found. We just need to look hard enough.
Dominic was born in Sunderland and studied Visual Communication at Edinburgh College of Art. He has a Masters in Design Products from the Royal College of Art, and is currently based in London.
Some of his inventions include:
Dominic in his Stained Glass Driverless Sleeper Car of the Future
Cereal Serving Head Crane Device
Binaudios : Listen to sounds of the city.
Dominic thinking on inventions in his Tree Branch Work Desk
No Place Like Home GPS Shoes
Watch sculptures
Tea cup with cooling fan
Automatic playing xylophone bin
You can find out more about Dominic at dominicwilcox.com
For Young People
What is invention?
Look around you: every object you see has one thing in common: Someone came up with an idea and invented it.
Shoelaces? Invented.
Candles? Invented.
Shoes that point you in the right direction? Yikes, but yes!
Do you ever wonder how people came up with these inventions?
Did you know that a lot of them were thought up by normal people, who just had an idea and got really curious about it?
Meet our Chief Inventor Dominic Wilcox
He is pretty curious himself. He has invented many things: a maracas toothbrush to make brushing teeth more fun, shoes that know the way home, and many more…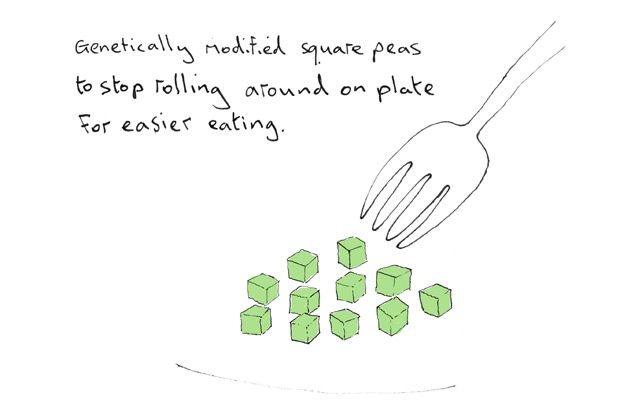 But we don't think that Dominic should be having all the fun. We believe that anyone can find great ideas everywhere. You just need to look closer. We would love you to come up with your own invention idea – and become an inventor yourself.
Can you think about things people find difficult to do, or maybe that you find a bit boring – what could you invent to make it better or more fun? It really doesn't matter if it sounds a bit crazy or you're not sure how it can get made, if you have an invention idea, we want to hear about it!
You can enter yourself or with of your school. Once you have uploaded your idea, it will go on our online gallery where everybody can see your great idea! Our Chief Inventor and the team will be looking out for your ideas – and if they like it, they will ask a professional maker or designer to make your idea into an animation, or even a real object!
Check out the gallery to see the inventions that other children have already come up with.
Are you ready to take up the Little inventors challenge?
It's really easy and it doesn't have to take long:
For Parents
As parents, one of the challenges of raising children is to equip them with the skills of dealing with whatever the future holds. With an ever changing world, brimming with information and evolving technology, creativity and problem-solving are skills that every child should learn to use as early as possible, in order to adapt and thrive in tomorrow's society. We believe that children's imaginations are an untapped resource for ideas that could make the world a better place.
How to get involved
Your child might do a Little inventors workshop at school, but you can also run a session at home - it's easy and can be a great way to spend some time together being creative.
Just grab the resources, then:
Watch the challenge by our Chief Inventor
Print, and have a few copies of the Drawing sheet handy
Use our activities and prompt cards if you need a bit more inspiration
Have fun!
Don't forget to then upload the invention idea here at littleinventors.org
Your child will be given direct feedback from the team, and the public may like, love, or find their idea funny! (We'd never encourage negative feedback).
They may also get picked as a staff favourite, turned into an animation, or even get made into a real object by one of our skilled Magnificent Makers!