This idea has been brought to life
Visit our online exhibition Mission: Protect our oceans to find out more about how the Clean Machine was brought to life!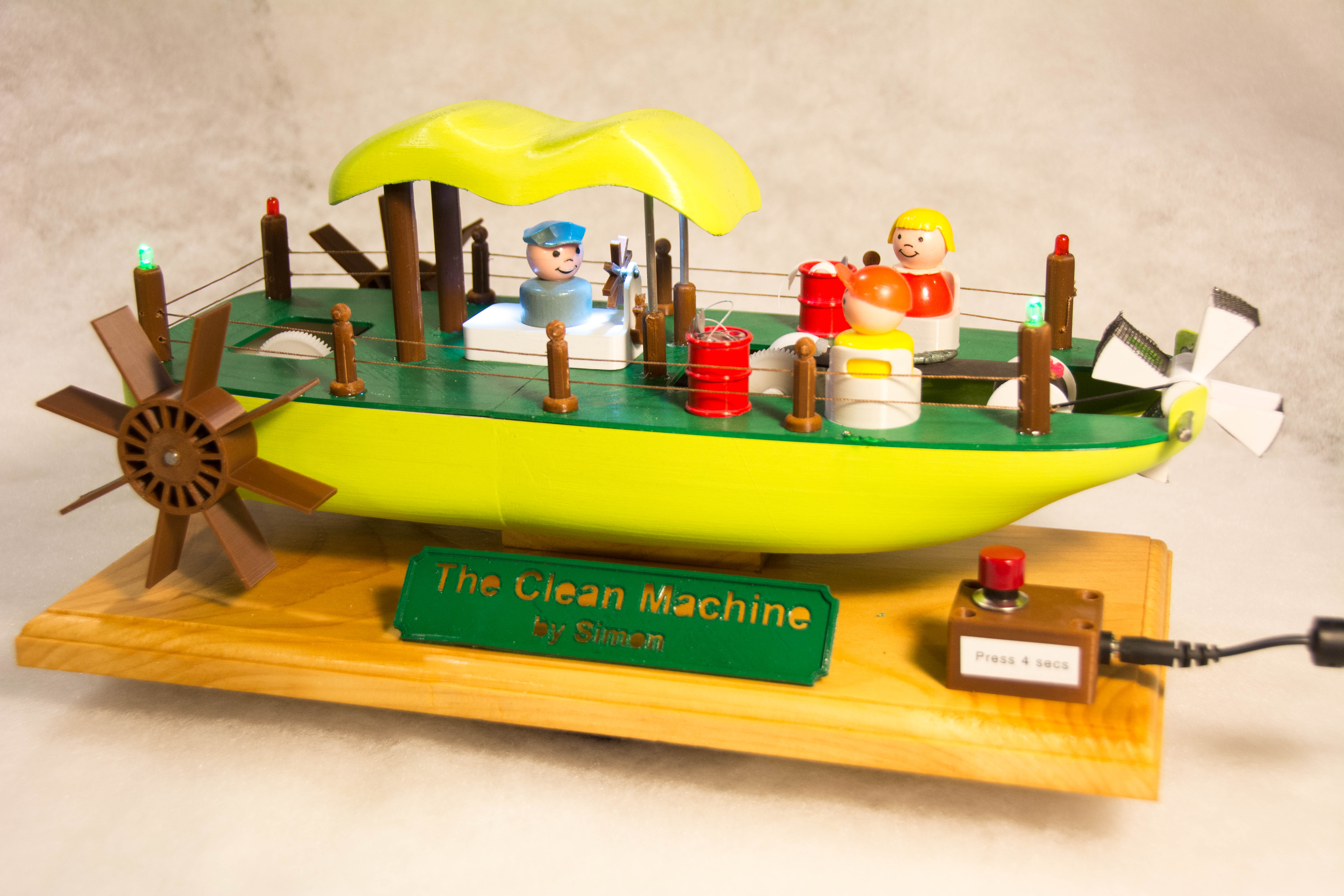 Maker blog entries
Projet complété: lancement du bateau / Project completed : launching the boat.
(English version below).
J'ai bien aimé fabriquer ce modèle. Simon avait une excellente idée d'invention pour nettoyer la surface des océans. L'idée d'un scooper était particulièrement innovatrice. Les photos et le vidéo qui suivent montre le modèle dans sa forme finale : les lumières de navigation rouges et vertes scintillent à leur tour, la roue à aubes et le scooper tournent ensemble et le klaxon du bateau se fait entendre.
(Version française plus haut).
It was a very interesting experience to build this model. Simon had a most clever idea for a vessel that would clean floating debris on the surface of the oceans. The concept of the scooper was particularly inventive.
The attached pictures and video show the final model: we can see the red and green navitation lights flashing, the paddle wheels turning as well as the scooper and conveyor belt.
Montage final et piédestal / Final assembly making the pedestal
(English version below)
Le projet tire à sa fin. J'ai assemblé l'électronique dans la carlingue du navire incluant un petit haut-parleur pour les effets sonores. J'ai décoré le "scooper" et le convoyeur de menu détritus pour ajouter une touche de réalisme. J'ai fabriqué un piédestal en pin avec un fini d'huile et de vernis afin de mettre en relief le modèle. Ce support en pin dissimule le circuit qui servira à animer le modèle.
(Version française plus haut)
The project is almost complete. I assembled the electronics below the deck, including the little speaker for the sound effects. I decorated the scooper and the conveyor belt with small pieces of plastic to simulate the real operation. I finally made a wooden base made of pine wood with an oil and varnish finish that will support the finished model. This base also hides the wiring connected to the switch that will be used to animate the model.
Éléments décoratifs / Adding some decorative elements
(English version below)
J'ai voulu ajouter des éléments décoratifs en ligne avec le dessin de Simon. J'ai donc fabriqué sur l'imprimante 3D un poste de pilotage pour le capitaine avec une ancre et une roue de pilotage, des poubelles et des sièges pour les figurines.
(Version française plus haut)
I wanted to add a few decorative elements that were in line with Simon's drawing. I made on the 3D printer a control desk for the captain with a small anchor, driving wheel, trash cans, etc.
Le circuit électronique / The electronic board
(ENGLISH VERSION BELOW)
Avec comme but d'animer le modèle, j'ai conçu un circuit électronique pour contrôler les lumières (au dessus-du capitaine; lumière rouges et vertes de navigation), le scooper-convoyeur et les roues à auges pour faire avancer le bateau ainsi que pour les effets sonores (klaxon de bateau, bruit de machinerie, bruit de vagues).
Pour le "cerveau" du système de contrôle j'ai utilisé un microcontrôleur Arduino Nano; pour les différents sons, un petit module MP3 avec carte de mémoire et connecté à un petit haut-parleur. J'ai assemblé le tout sur un petit circuit imprimé.
(VERSION FRANÇAISE PLUS HAUT)
To provide animation to the model I designed an electronic circuit to control the lighting (above the captain, also green and red navigation lights), the scooper-conveyor, the paddle wheels and also to provide sound effects (sound of splashing water, boat horn, machinery noise).
The "brain" of the control circuit is an Arduino Nano; for the sound effects I used a miniature MP3 player with a memory card connected to a small speaker. I assembled the circuit on a small circuit board.
Fabrication du toit / The making of the canopy
(English version below)
J'ai voulu suivre le design de Simon pour le toit abritant le capitaine avec ses contrôles. Pour ce faire j'ai utilisé encore une fois la fonction de sculpture avec Fusion 3D. Après plusieurs étirements à l'ordinateur j'ai obtenu la forme désirée. J'ai décidé d'ajouter 3 petites lumières DEL pour bien mettre en relief le capitaine et j'ai peinturé le tout vert lime toujours suivant le dessin de Simon.
(Version française plus haut).
I designed the canopy protecting the captain and his control desk using again the sculpting function in Fusion 360. After a few twists with the mouse I was pretty happy with the result. I painted the canopy lime green to follow Simon's drawing and added two small LED lights to help the captain manage his controls.
Aménagement du pont / Finishing touch to the deck
(English version below)
Pour enjoliver le pont, j'ai pensé fabriquer de petits poteaux le long du périmètre, poteaux qui seront éventuellement reliés par de la ficelle décorative. Deux poteaux à l'avant ainsi que deux poteaux à l'arrière supportent de petites lumières DEL de navigation qui clignoteront vert à triboard et rouge à babord. Les fils d'alimentation seront dissimulés dans le poteau et sous le pont.
(Version française plus haut)
To make the deck more authentic, I 3D printed small posts that will follow the periphery of the deck; I will later connect those posts with pieces of string for decorative purpose. The two posts at the rear and the two at the front of the ship will support small LED navigation lights that will flash green on the starboard side and red on portside. The supply wires will be hidden inside the post and under the deck.
Sur le pont d'Avignon... / All hands on deck !
(English version below)
Comme pour la coque, j'ai dû diviser le pont en deux parties pour pouvoir fabriquer sur l'imprimante 3D. Dans le design j'ai inclus plusieurs trous; ils agiront comme assises pour les nombreux poteaux utilisés à des fins décoratives et pour supporter le toit au-dessus du poste de pilotage.
(French version above)
As I did for the hull, I had to split the deck in two pieces to fit the 3D printer capacity. In the computer design I also planned various holes to secure the many posts that will line up the deck for decorative and support functions. I painted the assembled deck green to match the lime green color of the hull.
Les roues à aubes / The paddle wheels
(English version below).
J'ai bien aimé l'idée de Simon de propulser la navire avec un roue à aubes. Cela me faisait pensé aux bateaux qui naviguaient le Mississippi il y a plus d'un siècle. Comme le modèle a déjà 37cm de long, afin d'éviter de le rallonger encore plus, j'ai décidé d'inclure deux roues à aubes disposées de chaque côté de la coque au lieu d'une seule roue à l'arrière. J'ai fabriqué les deux roues sur l'imprimante 3D de même que le support pour le moteur miniature. J'ai utilisé deux engrenures de ma collection pour connecter le moteur à l'arbre d'entraînement. Voir le vidéo clip qui montre les roues en action.
(Version française plus haut).
I liked Simon's idea of a paddle wheel to power to boat. It reminded me of the river boats navigating the Mississippi river in the old days. Since the model is 37cm long already, I chose to use two paddle wheels instead on one and locate them on both sides of the vessel instead of at the back. I made the two wheels on the 3D printer as well as the bracket and support for the miniature gearmotor. I used two gears from my collection of discarded parts to connect the motor to the driving shaft. The paddle wheels came to life in the attached video.
Le scooper-convoyeur en marche / The scooper-conveyor in action
(English version below).
Pour la courroie du convoyeur, j'ai découpé une bande en caoutchouc d'une vieille chambre à air et collé les deux extrémités avec de la colle à caoutchouc. Après quelques heures entre les machoires d'un serre, la courroie s'est avérée très robuste. J'ai ensuite fabriqué deux petites poulies sur l'imprimante 3D et sélectionné une petite courroie d'entraînement de ma collection de pièces recyclées. Après quelques ajustements, le couple scooper-convoyeur est maintenant fonctionnel ! Voir le vidéo clip ci-joint.
(Version française plus haut).
For the conveyor belt I cut a strip of rubber from a discarded inner tube and joined the ends together using rubber cement and a good clamp. The result was a pretty strong belt. I made two pulleys on the 3D printer and selected the right size belt from my collection of recycled parts. After a few adjustments, I got the scooper-conveyor combination to work nicely ! See the attached video.
Le convoyeur / The Conveyor
(English version below).
Le coeur de l'invention de Simon est le scooper. Tel que mentionné précédemment, j'ai créé une combinaison scooper-convoyeur. Pour le convoyeur j'ai fabriqué des pièces sur l'imprimante 3D (rouleaux, supports des rouleaux, ancrage du moteur) et utilisé deux engrenures de ma collection de pièces recyclées, de même qu'un petit moteur miniature CC avec engrenage intégré. Le vidéo clip montre le premier test effectué avec succès.
(Version française plus haut).
The heart of Simon's invention is the scooper. As explained before I implemented the idea in the model using a combination scooper-conveyor. For the conveyor I made a few of the parts on the 3D printer (rollers, brackets, motor retaining ring) and used two gears for my junk pile as well as a small miniature gear motor. The video shows the first successful test of the roller driving the mechanism.
Fabrication de la coque du navire / The making of the ship hull
(English version below).
Armé d'un bon design, j'ai donc fabriqué la coque du navire sur l'imprimante 3D. Le navire mesurera 37cm de long alors que mon imprimante Prusa a une capacité maximum de 25cm. Aucun problème: sur l'ordinateur j'ai simplement « coupé » la coque en deux parties sur le large. C'est en fait la façon dont les vrais navires sont construits, soit par morceaux qui sont soudés ensemble. Pour ma part j'ai utilisé de la colle époxyde pour relier les deux moitiés ensemble et j'ai renforci le tout à l'intérieur de la carlingue en ajoutant une deuxième couche armée de fibre de verre. Ceci garantira la solidité du navire en haute mer…
(Version française plus haut).
Now that the design looks under control, I first printed the hull of the ship on my 3D printer. The ship will measure 37cm in length while the capacity of my Prusa printer is only 25cm. No problem: I simply "cut" the hull in two pieces on the computer and printed the pieces separately. In fact this is how real ships are built: in pieces that are then welded together. In my case I simply used epoxy glue to join them; I used a second coat reinforced with fiberglass to ensure a strong hull. Things can get rough on the high seas…
Conception terminée en grande partie / Much of the design work completed.
(English version below).
Après une bonne période d'incubation et échange d'idées avec ma fille Isabel qui est également dans l'équipe des « makers », le gros de la conception est maintenant terminé. Je suis relativement satisfait du couple scooper-convoyeur (voir croquis original et design 3D). J'ai déjà commencé à fabriquer les pièces sur l'imprimante 3D. Les choses commencent à rouler…
(Version française plus haut).
After some brainstorming, including with my daughter and fellow maker Isabel, much of the design work is now complete. I am happy with my rendition of the scooper-conveyor idea (see a first sketch and the 3D design). I have already started to put my 3D printer to work. The ball is rolling…
Design du "Scooper" / Scooper design
(English version below).
L'aspect essentiel de l'invention de Simon est le "scooper". Note : je dois avouer que je n'ai pu trouver d'équivalent en français pour traduire de façon succincte ce mot (roue à auges à pales filtrantes?).
Le scooper de Simon est utilisé pour ramasser les déchets flottants près de la surface de l'eau de façon à les amener mécaniquement sur le pont du bateau. Dans le dessin de Simon, il met ensuite à l'œuvre deux matelots pour trier ces rebuts. Je me suis permis d'ajouter un élément à cette idée de façon à améliorer la productivité de l'opération et du même coup ajouter un élément d'animation dans le modèle à créer. C'est ainsi que j'aimerais introduire un convoyeur, relié par une poulie et courroie au scooper. Les deux éléments, scooper et convoyeur, seront donc actionnés par le même moteur CC miniature. J'ai encore une fois utilisé Fusion 360 pour le design de ces deux pièces mécaniques. Voir le dessin ci-joint. La structure principale de la roue à auges (le scooper) sera construite principalement en matière plastique PLA sur mon imprimante 3D. Cependant pour la surface des pales je prévois utiliser de petits morceaux que je couperai d'un matériel utilisé pour réparer des moustiquaires. Ceci permettra de laisser filtrer l'eau des déchets.
(Version française plus haut).
The main element in Simon's invention is the scooper. The scooper is used to pick up floating waste near the water surface and discharge it on the deck of the boat. In Simon's drawing, two sailors-operators are at work sorting the waste material coming onto the deck. I thought it would be interesting to add a bit to Simon's idea. I wish to introduce a conveyor belt to facilitate the work of the two sailors; this would also add an element of animation to the model. The conveyor and scooper would be coupled with belt and pulleys and could therefore be powered from a single miniature DC motor. See the attached CAD drawing. The structural elements of the scooper would be fabricated on my 3D printer. For the filtering surfaces of the scooper I intend to cut and glue small pieces of fabric coming from a discarded window screen.
À la recherche d'un bateau / Looking for a boat
(English version below).
J'ai bien aimé l'idée de Simon d'un vaisseau qui collecte les déchets flottants à l'aide d'une roue à auges. Mon objectif est de produire un petit modèle animé d'environ 30cm de long. Pour débuter, le plus gros défi a été la coque (carlingue) du vaisseau. En effet, l'avant du vaisseau doit avoir une ouverture pour suspendre la roue à auge et a donc une forme très particulière. J'ai évidemment exploré le web pour essayer de trouver un jouet quelconque qui pourrait me procurer la coque désirée mais sans succès. La seule solution semble donc être de fabriquer cette coque, de même que l'ensemble du vaisseau en matière plastique PLA sur mon imprimante 3D.
J'utilise régulièrement le logiciel Fusion 360 pour la conception 3D de pièces de toutes sortes sans être pour autant un expert en conception. La coque d'un navire a une forme extrêmement complexe avec des courbes qui seraient très difficiles à réaliser de façon paramétrique (en utilisant des dimensions exactes, x y z et angles).
Cette invention de Simon m'a donc forcé à développer une nouvelle compétence en design 3D: la sculpture par ordinateur, une fonction entre autre disponible sur Fusion 360. Après avoir visualisé quelques vidéos YouTube et un peu de pratique, j'ai commencé à maîtriser cette façon excitante de concevoir des objets 3D aux formes très complexes mais de façon relativement facile.
J'ai donc réussi cette semaine à concevoir la coque du navire. Sculpter par ordinateur est très semblable à la sculpture avec pâte à modeler (voir photos). J'ai commencé en demandant à l'ordinateur de me fournir une des formes de base disponibles, soit un cube allongé et aux arêtes arrondies, construit de briques (j'ai choisi 64 briques : 4 sur le long, 4 de large, 4 en hauteur). Je sélectionne avec la souris certaines facettes ou arêtes et j'étire dans une direction choisie. Avec une telle série de sélections et étirements suivis de coupures j'ai ainsi réussi à créer la coque que je recherchais. Cette carlingue mesure 30cm; je la couperai en deux morceaux pour me permettre de l'imprimer sur mon imprimante 3D. Il me restera à la modifier légèrement pour créer des ancrages pour le pont, les moteurs et autres accessoires. Ouf, bien que tout est encore sur papier (et en mémoire d'ordinateur), je sens que le plus gros du défi a été franchi.
(Version française plus haut).
I really liked Simon's idea of a vessel to collect waste material from the water surface using a paddle wheel with some screening material to filter out the water. My objective is to make a small animated model roughly 30cm long. Up front I could see that the biggest challenge would be with the hull of the vessel. The bow of the vessel needs to be somewhat open to house the paddle wheel. I surfed various web sites to see if I could get a toy boat to fit my needs but to no avail. I rapidly came to the conclusion that I need to fabricate the hull, as well as the other parts of the vessel with PLA plastic on my 3D printer.
I use Fusion 360 for my 3D design needs but I am far from being an expert designer. The shape of a hull for a boat is very complex with curves of various kinds that are very difficult to parameterize (describe with xyz coordinates or angles).
Therefore this invention from Simon forced me to develop a new skill in 3D design: sculpting. Luckily it is a function available on Fusion 360. So this week I watched a few YouTube videos and spent a couple of hours practicing before I started to master this exciting technique that will allow me to create artistic shapes that I could not produce otherwise.
I was then able to design the exact hull I was looking for. Sculpting on the computer is very similar to sculpting with play doh. I first selected in the available menu of basic starting shapes a sort of elongated cube with rounded edges and asked for 64 cells or bricks (4 along the length, 4 over the width and the height). I then select with the mouse certain faces or edges and drag those in a given direction. Following a series of selections and dragging motions in various directions, followed by deletion of various surfaces and thickening of the resulting envelope I was able to create the very hull I was looking for.
Wow ! Although things are still on paper (and in the computer memory), I feel that I have eliminated the biggest challenge.
I still have to fine-tune this hull to include anchors for the main deck and the things I want to install inside the ship. Once satisfied, I will also need to cut the final hull design in two pieces to allow the fabrication on my 3D printer.
Progress !!