The Big Reinvention Challenge
UK February 2022 - April 2022
We collaborated with The National Festival of Making to bring you The Big Reinvention Challenge! Rooted in the theme of sustainability, the challenge looked to use things we already have as a starting point to create something new.
Three winning ideas were brought to life and exhibited at the annual festival weekend in June 2022: The Ball Pusher by Evie, The Laundry Flyer by Muskaan, and the Twitarain Kit by Isla. To see more about the brought to life inventions and read the maker blogs click here!
The celebration of making is, not surprisingly, something we can certainly get on board with. Making is our bread and butter and the desire to make is something we nurture in our little inventors. Thinking, creating, and making, are perhaps the most vital steps towards holding your own fully-fledged invention in your hands.
The National Festival of Making implement a year-round programme that combines art, manufacturing, making, and communities, in collaboration with national and international artists. They hold an annual festival weekend in Blackburn, free for all the family, where the artists and the community come together to showcase and celebrate their work.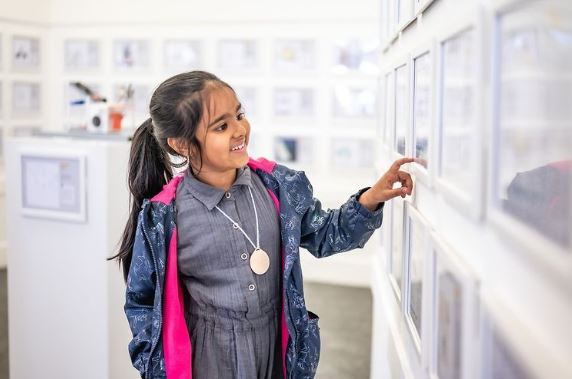 For us, collaborating with the Festival meant a chance to work with new and talented makers to bring children's ideas to life and reach new audiences with our creative mission. You already know we take children's ideas seriously, the Festival of Making does too. Their ethos also staunchly includes supporting artists and makers, another value we share.
We partnered up to present The Big Reinvention Challenge. Rooted in the theme of sustainability, we wanted kids to invent something new from things already in existence. The children learned that items and materials we already have can act as the tools and resources for an entirely new creation. And in recycling and reusing, the planet will thank them too. The inventions could be fun, bonkers, ingenious, or simply very useful. We received nearly 500 submissions from schools across the country. We saw ideas ranging from an alarm that shakes you awake to a hoverboard that can mow the grass! It wasn't an easy pick, but in the end, we chose three worthy winners based on their spectacular invention idea.
The Laundry Flyer
Invented by Muskaan, age 9 from Blackburn, The Laundry Flyer is an innovation for chore-doers everywhere. Never stress over doing laundry again, because this contraption will send your clothes into the washing machine, dry them afterwards, and iron them to boot! Goodbye spending your Sundays getting through piles of washing, hello letting The Laundry Flyer take care of it all. Muskaan worked with an artist who has a special place in our hearts, Chloe Rodham, to bring this idea to life. You can see Chloe's fantastically spick and span animation here.

Twitarain Kit
Owls need a raincoat and boots too you know. No one likes getting caught in the rain! Isla, age 11 from Lancaster, rightly argued that owls don't have waterproof wings so they struggle to hunt for food in the rain. Thus, she invented the Twitarain Kit to help them out. Not only that, but the outfit is made from eco-friendly, recycled materials. Owls of the world rejoice! Quilter, dressmaker, and author Jenni Smith discussed with Isla exactly what she envisioned for the Twitarain Kit and they even worked together in Jenni's workshop to create the final product. Red, dare we say it, might just be the owl's most flattering colour.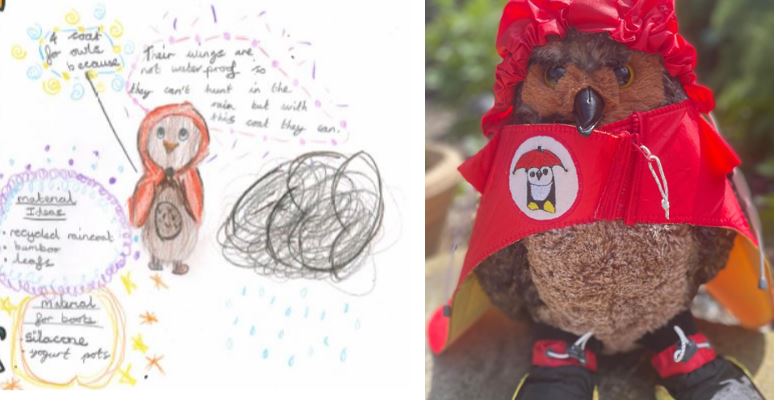 The Ball Pusher
Evie, age 9 from Bolton, spotted a conundrum in everyday life that she wanted to fix – the mark of a budding inventor! When she played basketball with her friends, the ball would get stuck in the hoop and disrupt their game. Enter The Ball Pusher, a basketball hoop with its own robotic arm that can jiggle and return any ball that might get stuck. Tom, Director of The Making Rooms in Blackburn, took into account the colours and the shapes Evie wanted from her invention and made her vision into a reality.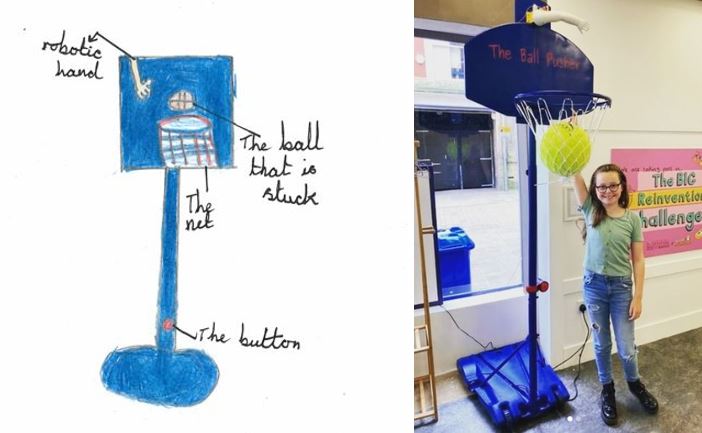 Alongside exhibiting the three made real inventions during the festival weekend, we also showcased 100 invention sheets highlighting a range of awesome ideas that were submitted as part of the challenge. We hope that everyone who came wandering through left with that bit more inspiration and creativity in their day.
Ellie Birkhead is our very own Design Lead (and an experienced maker herself!). She says of the challenge, "it combined everything we are most passionate about at Little Inventors - using creativity and fun to help improve the health of our planet, in this case by reusing what we already have to make something new and exciting. All of the invention ideas were so varied and were some of the best I've seen in our invention gallery. Our three winning ideas were really diverse, all tackling different problems in fun and unique ways. I hope this challenge will invite everyone to think about what they throw away and how it could be given a new life with a sprinkling of creativity". Evie's mum Laura was also delighted to see her daughter realise her creative prowess. Laura told us, "Evie loved seeing her invention brought to life, you gave her a wonderful experience".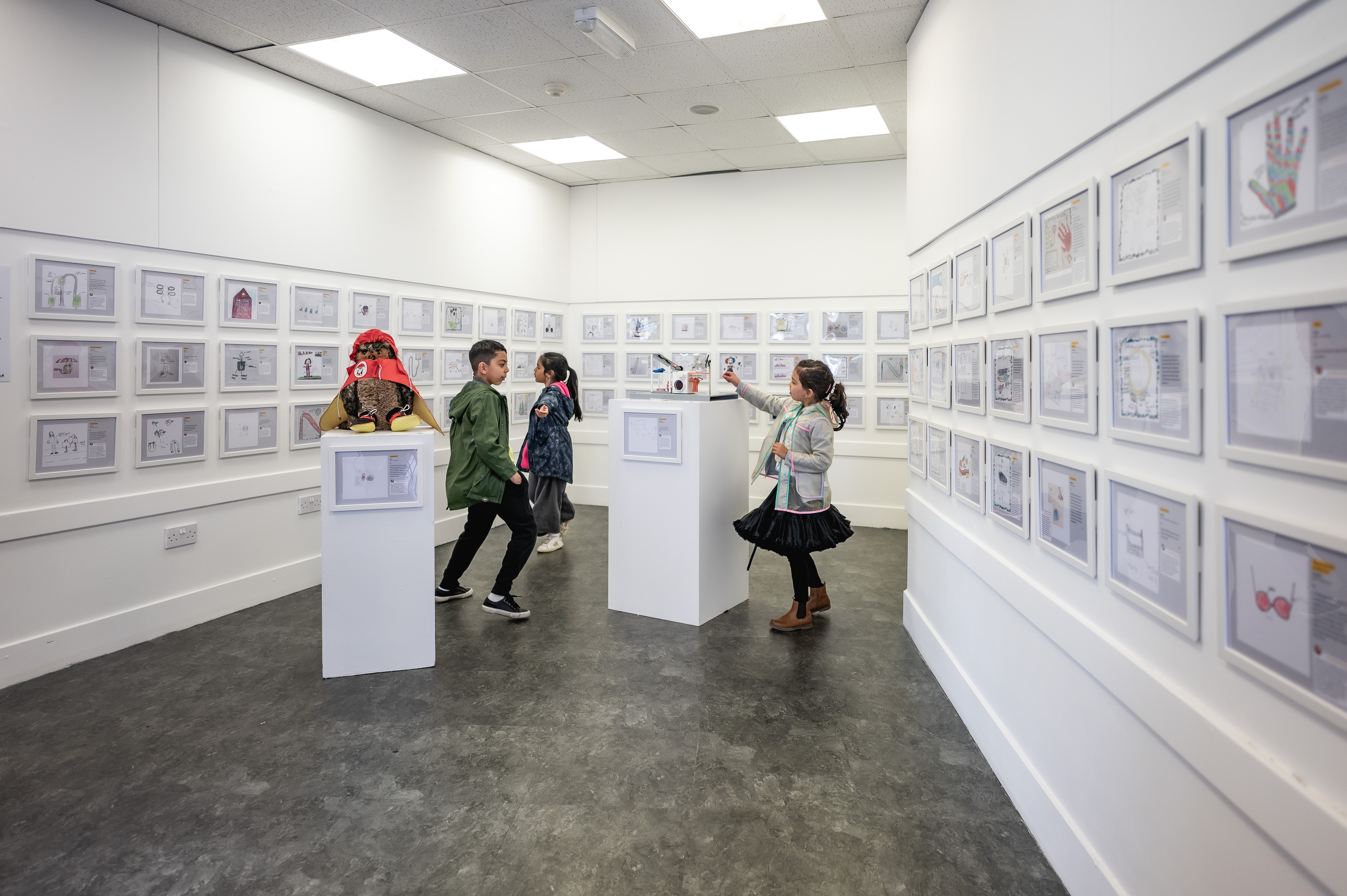 We were thrilled to be able to give Evie, Muskaan, and Isla the chance to invent. The experience is, for now, a unique one, but we are always striving to bring the opportunity to more and more young inventive minds. We could not have brought to life these amazing ideas without, of course, the National Festival of Making. We came together with The Making Rooms, Chloe Rodham, and Jenni Smith to bring a touch of magic to the lives of our three little inventors. Thank you all so much.
We covered the entire process of the project and the Festival of Making weekend on our Twitter, Instagram, and Facebook. Don't forget to follow the Festival of Making to see more about their fantastic work. Here at Little Inventors, it gives us immense inspiration and peace of mind to know that, like us, there are fellow organisations who will never stop making!