This idea has been brought to life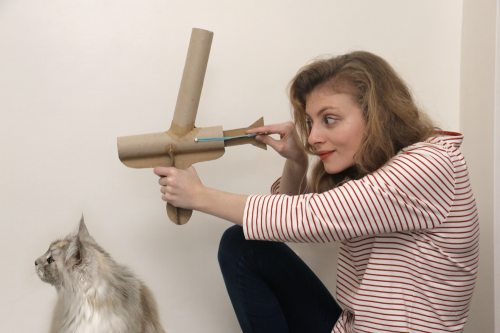 Newcastle Upon Tyne

,

Northumberland

,

UK
I'm an animator and model-maker based in Northumberland. I combine digital animation techniques with more traditional methods like stop motion. I enjoy sharing my skills with others - I'm an Associate Lecturer at Northumbria University and an animation mentor with TICE - introducing children to what it is like working in creative industries.
Magnificent maker
8 brought to life
1 working on
Maker blog entries
Remote control
On the call I had with Muskaan, she came up with a great idea to make the washing machine able to be controlled remotely so I've made a pair of arms and phone so that I can add this into the animation too in order to show how this might work
Shooting
To make animation using stop motion techniques you have to move the model and little bit and photograph it every time you move it. I've set up the model in front of a white backdrop paper roll. I use computer software to play back my animation as I'm going so I can tell what it looks like. The water in the washing machine is made from cling film.
Preparing for animation
Some of the props need to be adapted for animation, for example, the clothes need wire in them so they stay in place when I move them. I've used pipe cleaners in the trousers and a special kind of foil inside the t-shirt which is thick and stays in place when you crumple it.
Ironing board
The ironing board needed a fabric cover like real life versions do so I've stuck on some fabric, trimming it down so it is neat to the edges of the wood underneath
Clothes
I had a great chat with Muskaan about the the progress of the invention make, and she helped decide what clothes would be featured in the animation being washed by The Laundry Flyer. I've made the clothes using tiny pattern pieces and they are glued and stitched together.
Fan
The invention drawing has a fan to dry the clothes, so I've cut out some wooden panels on the laser cutter and glued them onto a tube so that the fan can turn in the animation.
Robot hand
Muskaan's design has a hand which does all the hard work of the laundry, so I've made a hand out of epoxy clay with wire inside so that it can move and bend. I'm going to be animating The Laundry Flyer using stop motion animation, so it is important to make sure I can move the pieces. The arm for the hand is made out of ball and socket joints - these work a little bit like our own bone joints to allow movement.
Painting
I need to paint the inside of the drum now before I glue the whole thing together so that I can get to the interior easily.
Gluing Wood Together
Now I've got the pieces cut out I need to start sticking them together which is a little bit like doing a jigsaw! I'm building the main shape of the washing machine first. It has a drum inside it made from glued together circular pieces.
Cutting out wood
Today I've been cutting out some wooden shapes to create the structure of Muskaan's Laundry Flyer. I used a laser cutter at a place called FabLab which has lots of different making machines and tools. I needed to design the shapes of the pieces digitally on my computer first then send that to the laser cutter, a bit like printing a file. It is very exciting to watch the laser cutter whizzing around to cut out the pieces!