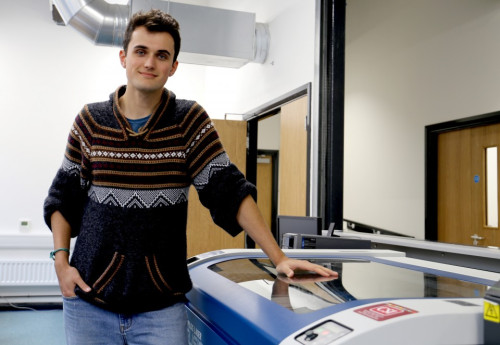 1 brought to life2 working on
Hi! I manage Fab Lab Blackburn at The Making Rooms where we develop products and help people learn new technologies.
My background is in Computer Science and Educational Electronics, and helped develop CodeBug for teaching anyone how to code. I have been involved in maker spaces for the past decade.
Recent blog entries
The making of The Sock Matcher 5000
We picked this idea because it's a problem we all struggle with on a daily basis! It's a great idea, but it's also applicable to more than just socks, this idea could be adapted to sort and match all sorts of objects.
The Sock Matcher 5000 is being driven by a Raspberry Pi. The Pi Camera will detect when it sees a sock, then identify the sock colour and rotate the sorting plate to the assigned sock box. The Pi will then drive motors to move the sock conveyor belt so the sock drops through the funnel.
We've loved working on this project, there's so many different machines and processes being used to build The Sock Matcher 5000. We used the laser cutters and the 3D printers, even the vinyl cutter for the logo!