Kate Eccles
Newcastle

,

Tyne and Wear

,

UK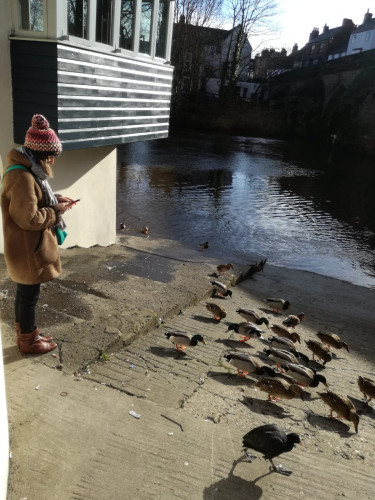 1 brought to life1 working on
Skills:Hand and machine sewing, sculpture, fabric manipulation, origami, textiles, costume, props,storytelling.
I am a visual artist with a background in textiles, theatre, film and installations. I deliver workshops in educational and community settings with a strong focus on Reduce, Reuse and Recycle. I love working with all ages to create new work. Collaborating with children spark wonderful conversations and new approaches to the making process.
Recent blog entries
Sticky Bunnies
The final fabric and finishing touches. I created ears for the bunnies from the same cream faux fur and used some pink felting wool to add colour. Using a dark brown wool I created the eyes, trying to give each slipper their own character.
Sticky Bunnies
Once the base of the slippers had been completed I then needed to work on the bunnies. I selected three different materials. The first material was a white faux fur which had a shine, more man made look about it. The second was a luxury cream faux fur which had a finer hair and softer colouring. The last was a hand made felt, made from sheep wool, this had a organic crafted look about it. I chose the luxury cream faux fur as it had a natural look and movement to it and it was the softest material. Something you defiantly would like to put your feet on after a hard day in space.
Sticky Bunnies
I started by taking a slipper apart and experimenting with the slipper base. I attached suction cups to the bottom, firstly with screws ( obviously not safe to wear at this point!) to assess how they would work on the feet. Once deciding this was the right path I sourced different size suction cups to see which size would be the most effective. I chose a 30mm size. Next I sourced nuts and bolts, the nuts had to have 'cover caps' which protect the bolt from sticking into the foot.