Invent your own super play backpack
Take the Maker Challenge set by producer and maker Jilly Hargreaves! Jilly challenges you to create your own super backpack out of cardboard. Will it soar though the sky? Take you into outer space? Or will it have extra equipment inside to help you swing high from the lamp posts and trees? It's up to you!
Jilly is a producer and a maker who lives in Gateshead, UK. Jilly's company Chalk produces amazing immersive events for families in the realm of theatre, music, film and science. But most of all Jilly loves to play!
CHALLENGE PACK
Download the full set of activities to get started on this challenge.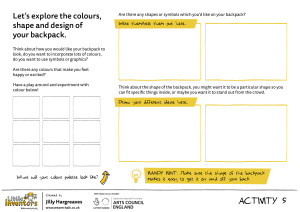 How to enter!
You can submit more than one invention idea.
Submit invention ideas through our upload page.
Each invention idea will comprise of an image of a clear drawing, the name, age and location of the inventor, the name of the invention and a description, and a contact email address.
Examples of scanned images
Great
Not so good