Create an invention using things found in nature to help nature
Jude challenges you to go outdoors and give nature a helping hand. Create your very own invention using objects found in nature. What will you come up with?!
Jude is a designer from Cumbria in the north of England. He has designed all sorts of thing from LEGO toys to vacuum cleaners. He loves making and exploring the outdoors with his son.
CHALLENGE PACK
Download the full set of activities to get started on this maker challenge.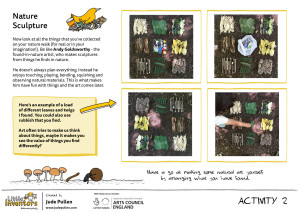 How to enter!
You can submit more than one invention idea.
Submit invention ideas through our upload page.
Each invention idea will comprise of an image of a clear drawing, the name, age and location of the inventor, the name of the invention and a description, and a contact email address.
Examples of scanned images
Great
Not so good