Create an invention that transforms using movement
Take the Maker Challenge set by designer-maker Claire Ward Thornton, look at movement, create an automata and be inspired by amazing nature to help you design your own ingenious transforming invention.
Claire is a visual artist based in London who spends a lot of time making art with children in schools and families in public spaces through her organisation Art Hoppers.
CHALLENGE PACK
Download the full set of activities to get started on this maker challenge.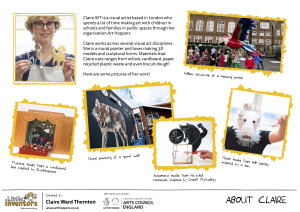 How to enter!
You can submit more than one invention idea.
Submit invention ideas through our upload page.
Each invention idea will comprise of an image of a clear drawing, the name, age and location of the inventor, the name of the invention and a description, and a contact email address.
Examples of scanned images
Great
Not so good