This idea has been brought to life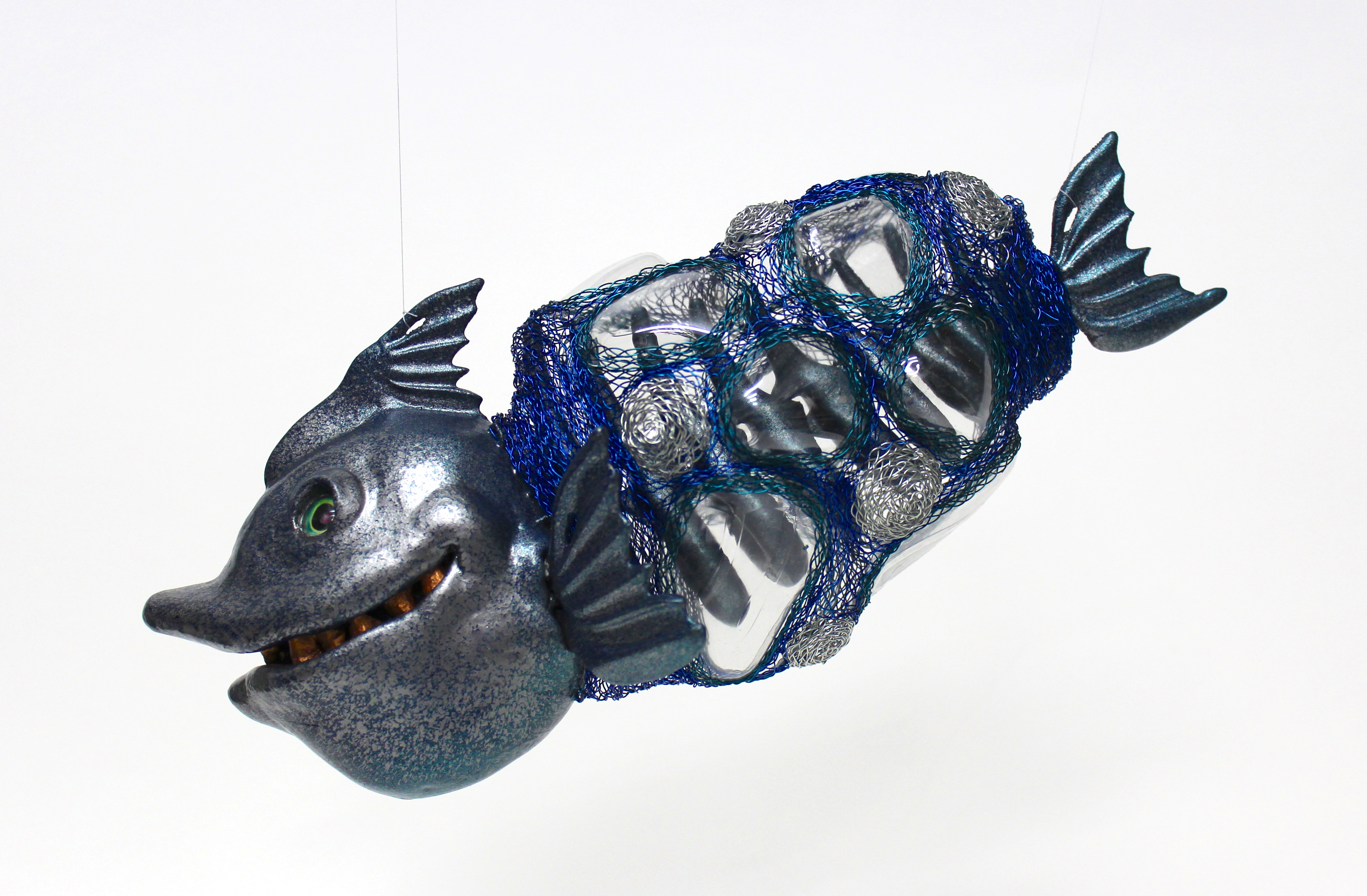 Maker blog entries
Garbage Sea Sweeper!
I wove the net of the Garbage Sea Sweeper using metal wire as well as nubs from the bottom of a plastic pop bottle. I liked the idea of incorporating plastic waste into the design itself and the plastic also allows us to see the skeleton of the sharky-fish. I imagine that the skeleton is mechanical and helps the creature to swim. I'm very excited to have completed this sculpture. Thanks to Luiza and Little Inventors for this opportunity. I had so much fun making the Garbage Sea Sweeper!
Net Time!
Initially I was going to create an entirely woven net, but I thought it might be interesting to incorporate some of the plastic waste itself into the sculpture. I cut the little nubs off the bottom of a pop bottle, poked holes in them with a tack, and then sewed wire braids around the outsides of them so that I can include them in the net of the Garbage Sea Sweeper.
Sharky-Fish
The Garbage Sea Sweeper's body is ready to go! Now all it needs is a net.
Within this work, I tried to capture how Luiza's drawing is cute but also a little scary. I think this Sharky-Fish looks cute but mischievous. I hope it looks scary enough to frieghten fish away while it collects garbage from the ocean.
Tape Peelin' & Touch Ups
I very carefully peeled off the tape covering the Garbage Sea Sweeper's eyes and teeth. I used a knife to cut around them first so that I wouldn't accidentally peel off paint with the tape.
I also added some paint on the hard to reach spots that were missed when spray painting.
Painting Time!
I prepared the Garbage Sea Sweeper for painting by cover its eyes and teeth with tape.
I hung the sharky-fish with a wire through the holes in its fins. You can see my mess in the background!
I sprayed the sculpture with a coating of textured silver, followed by light spritzes of teal and dark blue to represent the colours in Luiza's drawing.
Attachments
I needed to permanently fix the two tail segments together and to create a tie down for the Garbage Sea Sweeper's net.
I created tie downs for the net by drilling holes in the back of the head, and adding little "U" shaped wires into the head, fixing them in place with epoxy (super strong glue).
I tied the tail together by drilling a hole through each side and twisting them together with a wire.
Magic Sculpt is a little bit difficult to work with because it doesn't smooth that easily. I gave the sculpture a light sanding to get rid of textures and finger prints.
Eyes & Teeth
After my meeting with Luiza, I learned that the Garbage Sea Sweeper has metal teeth! I adjusted by painting the teeth copper and the mouth black. I chose to make the teeth copper because I plan on painting the sculpture silver and I want the teeth to stand out.
I painted the teeth in advance so I can build up with more Magic Sculpt around the mouth and won't have to try and work in tiny and awkward spaces later with paint. I know this looks messy, but since I know I'm adding more material, I don't have to be too precise with my painting.
I also added eyes! I ordered glass fish eyes from Nix Creations on Etsy. I needed to make some adjustments to add the red light to represent Luiza's camera eyes, so I scratched off some of the back of the eye and painted it red. It's subtle. Can you see it?
Sketch Again
I finally got to meet Luiza on Zoom! Luiza lives in Saskatoon, SK and I live in Prince George, BC (but I am originally from Regina, SK - so I felt familiar with Luiza's surroundings). It was nice to meet her and her teacher.
Luiza told me more about her sculpture: it is a mechanical garbage sea sweeper that collects garbage from the ocean. The garbage is "eaten" and crushed by metal teeth to compact it. It then travels into the net where it is stored with other compressed garbage until it is full. It can then return to humans to empty it and send it out again.
She was inspired to invent it after a holiday in Mexico where she went snorkelling and saw garbage everywhere. It looks like a shark so that fish will be afraid of it and not get caught in the net.
I have been using a fish skeleton as a starting point - not a shark skeleton - silly me! Luiza's drawing sure does look like a shark. I'm carrying on with my interpretation of Luiza's idea - with a sharky-fish structure. Since I now know that its teeth are metal, I will make some adjustments!
I also learned the Garbage Sea Sweeper's eyes are red because they are actually cameras. How clever!
Modify the 3D Print
For my purposes, the 3D print needed to be modified. I removed the ridge around the eye using a dremel tool with a sanding bit.
I also thought the body was too short and it needed a head fin. I cut the tail off of my test print - luckily the sizing worked out perfectly. I also used one of the pectoral (side) fins from the test model as a dorsal (top) fin.
I painted the inside of the mouth red, and then started building with Magic Sculpt - a two part epoxy sculpting putty that when combined has a chemical reaction and dries very hard. Interesting fact: this putty is often used by taxidermists to build up muscle structures on animals.
I used Magic Sculpt to build teeth, flesh out the head, attach the dorsal fin, and round out the bottom of the skeleton (it sat flat on the table previously).
3D print choice
I decided to use the articulating fish skeleton as the skeleton for the Garbage Sea Sweeper.
I didn't make the model for this, I purchased an existing model designed by Flexifactory. Check out their models, and print your own flexi-fish here:
https://cults3d.com/en/3d-model/art/flexi-print-in-place-fish-dsopala-2
I printed this fish 8" long and hallow (to save material) and it took 17 hours to print on a tinkercad printer at Two Rivers Gallery!
3D print tests
I thought it would be good to start off the Garbage Sea Sweeper using a skeleton as an interior structure (armature). I downloaded 3 different files to test. Some worked better than others...you can see that only the head survived on one of them. I liked the one on the left the best because it is an articulating print (it moves).
Initial Sketch
I made a sketch based on Luiza's drawing and thinking about how I would build the Garbage Sea Sweeper. In this drawing you can see that I'm thinking about an interior structure as well as the outer layer of the sculpture.