This idea has been brought to life
The Solar System family invention was combined with another invention called the Family Talker, and made real, in the form of this beautiful stained glass hanging!
Maker, Isabelle, explains 'I cut the planets from stained glass. The "hologram" looking pictures inside the planets are made using the 3D printed lithophane technique - the thicker an area is, the darker it appears when backlit. Arduino electronics make it all come alive... thanks Little Inventors and NSERC for giving me this opportunity to bring Ella and Elena's invention to life'.
Remember to click on her makers blog (above) to find out all about how she brought the invention idea to life!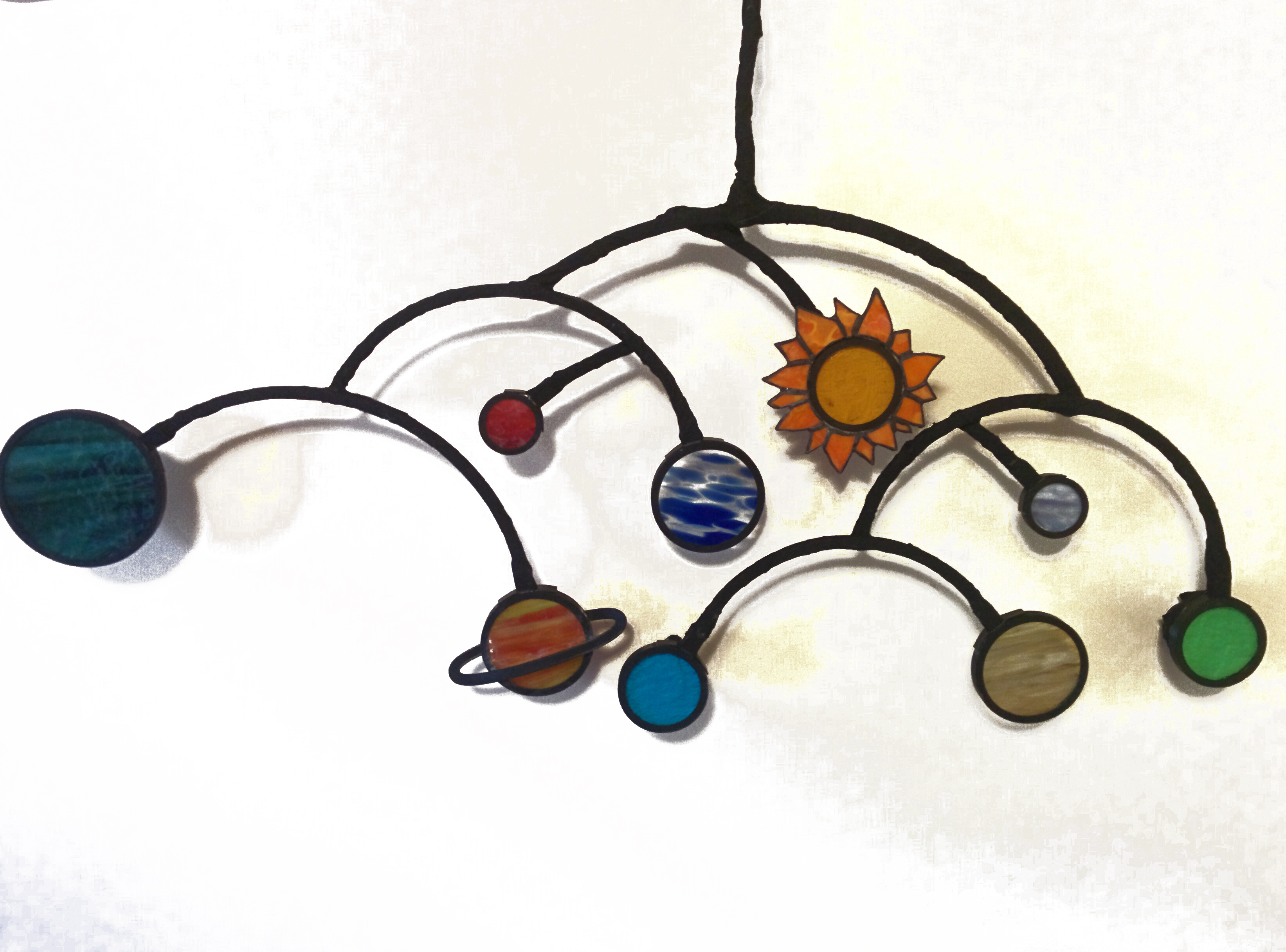 Maker blog entries
Completed project
The invention is complete! This week I put a few finishing touches on the invention - I mounted everything permanently, and wrapped all the metal armature with hockey tape to give the solar system a softer look (and a little bit of Canadian flair). As a final touch, I decided to add some rings to make one of the planets look like Saturn, my favorite planet. Finally, I shot a quick video to give you a tour of the completed invention - see below! Thanks everyone for following along as the invention came together, and thanks Little Inventors and NSERC for giving me this opportunity to bring Ella and Elena's invention to life.
Meeting Elena
Tonight I met Elena and her family - Elena is the inventor of the solar system family. We had a great skype chat. Elena told me about the day she came up with her invention in her class in Calgary. I showed her the prototype of the invention. Her cat seemed to really like the invention when it made meowing sounds! After our call, I glued the back of the planets on, the wires, and the name plates. I'm just missing some hockey tape to finish up the invention. I might add a few details afterwards, but at least I'll know that I have made the deadline!
Final fitting
I took a little break from making the last few days to go kayaking with our friends. After coming back tonight and unpacking, I thought I'd put in a little bit of time on the invention. I went down to my workshop / laundry room, checked that all the glue was secure, and thought for a second to plan out my next step. I was almost surprised to realize that with the help of a few pieces of duct tape and masking tape, it was time to do a "final fitting", temporarily putting everything together and testing it out. Except for the cat and mom sounds being reversed, which was easily fixed, everything worked perfectly! Exciting! I shot a quick video. I think that tomorrow I'll be able to replace the masking tape with glue or brackets, and put up a chain, and the invention will be pretty much ready! Fingers crossed.
Orbits
Tonight I mounted all the planets to the zinc came. I had printed brackets overnight on my 3D printer. I used some hot water to soften them so that I could bend them to fit exactly the curve of the planets (and to make tea - that's a bonus), then glued them to the planets and then to the zinc came. I also finished making the sun's rays - I had already cut them and ground the edges, so I just needed to wrap them in copper foil, solder them together, and put some patina to darken the solder. Things are really taking shape! I think I'll just add some rings to one of the planets to make it Saturn-like, and then I'll be ready to add the electronics. I just need to pick up a few supplies at the hardware store.
Putting it all together
Tonight I started to put the artistic side and the functional side together. I packed all the spaghetti circuit inside the 3D printed controller, and glued the glass planets into their frames. I tested the family talker – Ella's voice, Mom's voice, and Scrappy's meows all come through! The real Scrappy was quite fascinated by the cat voice coming from the 3D printed box.
Melting metal
I'm starting to feel the pressure of getting this invention ready! Today I had a big job ahead of me: Up to now, I have prototyped the electronics on a temporary "breadboard", but I need to make a permanent circuit. It took about 5 hours to solder everything together. I had to measure the wires and make sure that everything stayed wired the same way as I soldered the components together. Once everything was together, it was a giant spaghetti mess. I was a little scared to see what would happen once I plugged it into the wall. 3,2,1… nothing! The lights flickered a bit then dimmed. I couldn't get the audio to play. But then, I noticed I had put the Arduino into its socket backwards (it was well past midnight at this point I must say)… oh oh, I hope nothing got damaged when I plugged in the circuit this way. I corrected my mistake and tried it again. Success! Everything works like it's supposed to! Tomorrow I can finally start to put the electronics and the glass together.
Big bang
Before I finalize the electronics, I have to get a good idea of how long the wiring needs to be – so I decided to finish laying out the solar system. I decided to connect the planets using zinc came, because it has a neat channel that can conceal the wiring. I used a came bender to pinch the came into smooth arcs.
When I was happy with how things looked, I asked Ray to come and give me an opinion on how things were looking. He suggested that I should make the same number of planets as in our solar system – that makes sense to me! So I'll be cutting out two more planets. He also suggested to make the sun the right scale… but I won't be able to do that, it would have to be ten times bigger than all the planets! I'll have to use artistic license on that point.
Family talker comes to life
Ella and her mom sent me their Family talker messages. I also found some good cat sounds online, and downloaded all of the files into the memory card for my MP3 module. When I plugged it in and started pressing the buttons, I got a little chill – the Family Talker feels like it's come to life! It's so easy to imagine being the astronaut, tired and a bit homesick, lying in my sleeping back in microgravity, and listening to a message from my mom, my child, and meowing from my cat. Well, back to work, I'm going to talk to Elena (inventor of the solar system family) and her family soon, and I really want to be able to show them a prototype. Plus, the deadline for the invention is coming soon!
Meeting Ella
Today was a really exciting day, I got to meet Ella and her mom on Skype. Ella came up with the idea for the family talker! She told me more about how she has come up with her idea, and I showed her what I had made so far. I was able to show her one planet with a cat hologram inside. Both Ella and Elena had cats in their inventions so I thought it was a good idea to include a cat as one of the family members. I used a picture of my own cat, Scrappy.
Ella seemed really excited to about how the invention was turning out. Ella and her family are going to record some of the messages for the Family Talker part of the invention. Ella's picture is also going to be one of the holograms in the planet. I'm going to call that family member "Ellana", which is a combination of the names Ella and Elena, the two inventors.
Choosing glass
Today I went looking through my glass collection to find the most planet-looking glass I could get. Picking glass is my favorite part of making glass projects! Glass is so beautiful. There were so many possibilities but I think I picked my favorites. I cut them into planet shapes and threw in a sun for good measure. I also cut some zinc came to hang the planets from.
Powering up
The electronics are almost finished now, I just have to figure out how to keep them powered. I have been using a power source that my dad made my for my birthday using a computer power supply and a 3D printed case (you can see that making runs in the family!). But, for the final project, the invention needs its own power supply. I look around in my parts bin and I find a power supply from an old modem. It's just about the right voltage – if I use an electronic circuit called a "buck-boost", I can adjust the voltage until it's just right.
So far I have a lot of recycled stuff in my project! A speaker from an ipod car speaker, a power supply from a modem, parts from 3 flashlights, and now I'll be looking for scrap glass from my stained glass projects.
Plan B
Today when I started to assemble the different parts of the invention - the glass planets, the lithophanes, and the electronics – I had a disappointing surprise. Turns out that my office, where I was testing the idea of lithophanes inside the planets, is pretty dark. When I moved the materials down to my workshop / laundry room, which is brighter, I couldn't even see the holograms inside the planet. I had a sinking feeling in the pit of my stomach… how can I make the idea work? It feels like the whole invention depends on it. I tried adding more LEDs but no luck. I started to think about whether I could use some reflectors behind the lithophane to light it better. Maybe something in a parabolic shape? Where did I see something like that? Oh right! In the flashlights I bought last year to demonstrate how eclipses work (we had a really cool solar eclipse in Canada last summer). Hmmm… I start running around to find all the leftover flashlights, and I find one where we keep the candles in case of a power failure. I try it out behind the lithophane. Success! It works well, even in a bright room! Hmm, can I find the other flashlights? One in my car for emergencies. And one in our tiny house. I can't find the 4th one, I think I left it in Inuvik last winter with some solar car kits, but I'm not sure. Well, maybe I'll only make 3 holograms instead of 4. Unfortunately it seems like the dollar store doesn't sell these flashlights anymore, but I asked my friends on Facebook if anyone had one lying around. We'll see! In the meantime, I start dismantling the flashlights so I can use just the ultra bright LED and the reflector, inside the planets.
3D printing
Ever since I saw a 3D printer 10 years ago at a conference, I had been dreaming of having my own 3D printer. Finally, my dream came true last year, and I have been using my printer all the time! I have printed xxx KM of plastic filament so far. I just started to design and print the 3D parts for the invention. Of course I am printing the lithophanes representing each family member, but I am also printing the containers for the electronics, a control box, and rims for each of the planets. I design all these parts in a CAD software – that means Computer Assisted Design.
Electronics
Now that I have my planet concept figured out, I decided to work on the electronics, because if I'm missing any parts, I'll have to order them and that takes time… I better make sure to figure that out quickly! I learned electronics from my dad when I was a kid. We used to make all kinds of circuits. I remember making an alarm system to warn me when someone came into my room, and a small calculator. My dad also taught me programming on an Apple II computer. I think learning these things from my dad, and doing a lot of crafts with my mom, are why I became a maker.
I decided that the best way to do this project was to use an Arduino, which is kind of like a tiny computer that can control lights, motors, etc. I also need buttons, lights, and a way to play sounds. This is my chance to try a new Arduino module that my dad gave me at Christmas. It's a tiny module that takes a memory card, and plays mp3 tracks. I look in my parts bin and I find a speaker that came from an ipod car speaker – I'm the kind of person people give their broken electronics to so I can recycle them into new projects. I find an example on YouTube that shows how to use the MP3 module – I'm glad that makers like to help each other online so much! Starting with this example, I put together my circuit and test it out. I put 5 buttons in my circuit. Every time you press a button, a different set of lights lights up and a different MP3 track plays. When the invention is done, each track will be a family members' message, but for testing, I just use some songs I have on my computer.
Inspiration
In my opinion, the most exciting innovations happen when you can connect two things that no one has ever put together before. After messing around with the idea of using motors to turn the planets around to show the family pictures behind them, I think I found the idea I was looking for. For a while now, I've been seeing people play around with a 3D printing technique called lithophanes. To make a lithophane, you 3d print a picture out of white plastic, making the dark areas really thick, and the light areas really thin. If you shine a light behind the 3D printed piece, the picture will appear. Because the thick areas block the light the most, they appear darker. I think if I place a lithophane behind a glass disc representing a planet, I can make the family members "appear" as holograms inside the planets. I tried it out and it's promising! My idea is coming together.
Brainstorming
Today I met with Dominic, the chief Inventor, who lives in the UK. We brainstormed some ideas for the invention. Originally I was going to make the planets using 3D printing, but something that Dominic said during our brainstorming stuck with me – he suggested making the planets out of glass. At first I said that wasn't possible, because making spheres out of glass is hard if you don't know how to do glass blowing. But I keep thinking about some of the glass in my collection and how it would make such wonderful planets. Something else that came up in our brainstorming is the idea of holograms. I'm not sure how to make holograms, but I keep thinking of how cool it would be if the family members appeared as holograms inside the planets. I'll have to keep thinking! I'm on vacation kayaking and camping in one of the most beautiful places in Québec, the Fjord du Saguenay, and I'm daydreaming about my project.
Brainstorming
In Canada this year, we have a special challenge to make inventions related to space, to celebrate David Saint-Jacques' mission to the international space station. Kids across Canada submitted invention ideas that would help astronauts in space. I noticed that a lot of kids submitted inventions that would help astronauts feel in touch with their family – I found that really interesting, especially because when I participated in a videoconference with David Saint-Jacques earlier this year, we asked him what his biggest challenge in space would be, and he said it would be missing his family. Our little inventors clearly know what they are talking about! Anyways, I am very happy that I was assigned two inventions in that category: Elena's idea is the solar system family, which is a model of the solar system with family member's pictures in each of the planets. Ella's idea is the family talker, which is an device that lets you select one of your family members to hear a recording of their voice, saying things they would normally say to you. My mission is to combine these two ideas into one invention.
What our experts think!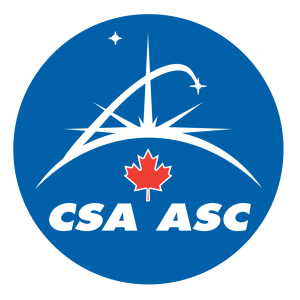 Stephanie Fowler, Operational Space Medicine
What a lovely idea! Family connections are so important for astronauts that are away for extended periods (6 months) on the International Space Station. This could even be helpful when astronauts are training overseas for extended periods (ie. Russia, Japan, Europe etc.). Well done! Keep up the creativity!