This idea has been brought to life
Visit our online exhibition Mission: Protect our oceans to find out more about how Jayla's idea was brought to life!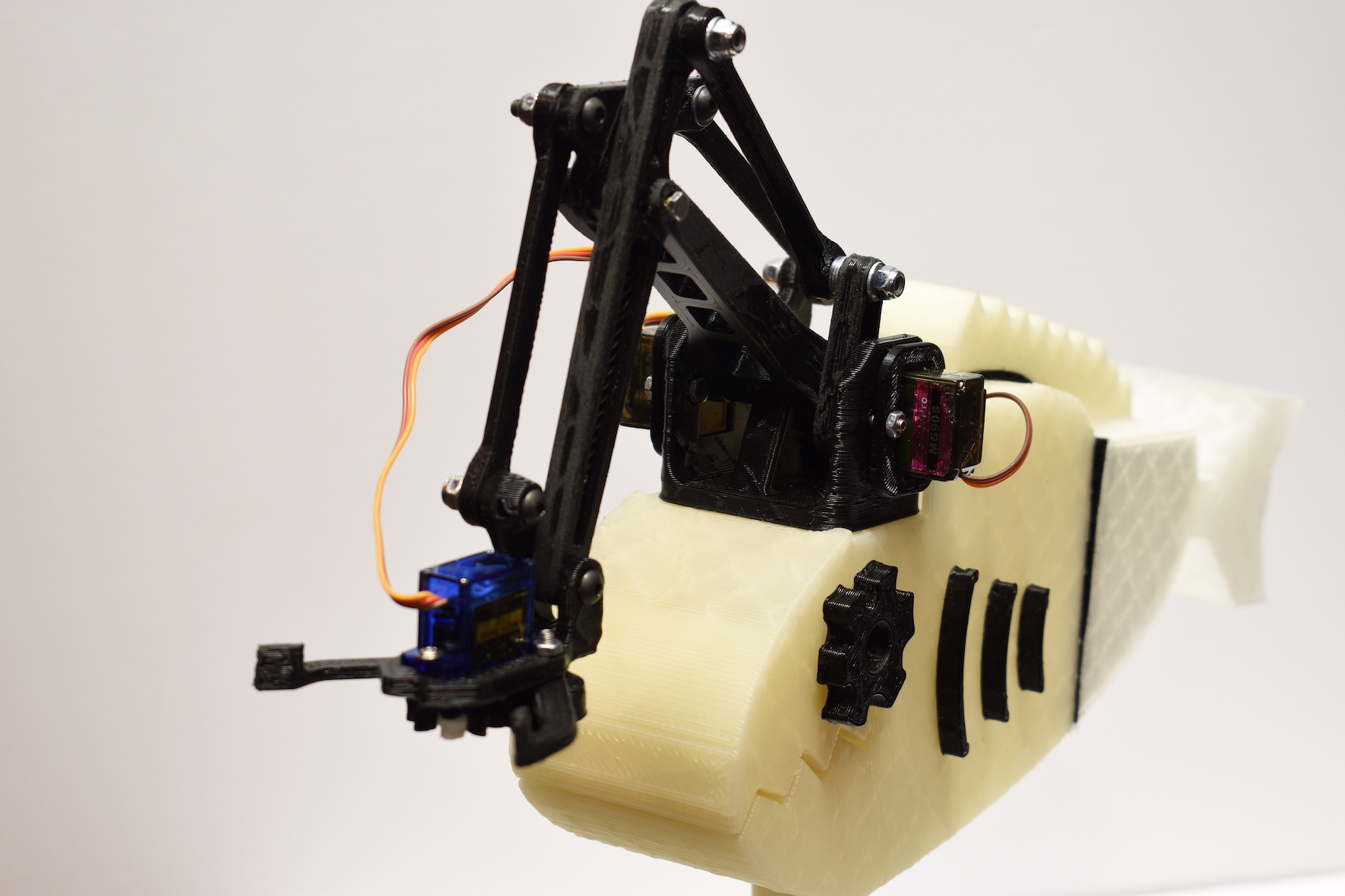 Maker blog entries
Making the Robot Fish - Part 3
I decided to make the color of the box different from Jayla's drawing because it allowed the fish and its features to be the focus of attention. In Jayla's drawing the colors yellow, black and white are 3 of the 4 colors of the Mi'kmaq Medicine Wheel, so I opted to use black for the box to stay with her color choices and relate it to the Medicine Wheel. The final design decision I made was to use specific printer infill settings to produce the unique "fish-scale" like pattern on the outside surface of the prints.
After finalizing the style and finishing the 3D model of the fish, I started printing out test parts to see how they'd fit. Instead of using things like snap-fits or nuts and bolts for the connectors, I designed to use velcro to make it easy for Jayla, the Little Inventor, to take it apart and look inside whenever she wanted. This also fit the sustainability and design-by-nature themes as velcro was inspired by the burrs of the burdock plant!
- Jordan
Making the Robot Fish - Part 2
To come up with the general style, I put together a collage of different goldfish, robot fish, and First Nations artwork for inspiration. My main goal was to highlight Jayla's core ideas that I took note of from our interview and make simple adjustments to the other attributes of her invention.
For the main body of the fish, I looked into different types of goldfish (because Jayla mentioned in our interview she drew hers like a goldfish), and found the common goldfish to be the most similar in terms of its color, the dorsal (top) fin, and body shape. I combined the aspects of the common goldfish with the aspects of the other artwork I found to model the fish body shape.
While it's important to make the design more realistic when designing a prototype of someone's idea like this, it's also important to me as the designer to keep as many core features of the idea maker as possible. In this case there were many I wanted to keep, like the color and sustainability aspects noted in the first blog post. In this post I'll go over a couple more features of Jayla's artwork that really stood out to me to keep in the design, the eye and the style of its mouth.
The style Jayla drew the mouth in was very unique and I liked how it conveyed the "robot" aspect of her fish. For the mouth, I imported the image of Jayla's artwork into the 3D modelling software I'm using so I could get the right size and position, then redrew it very close to the original (seen in the video).
I did something similar for the eye, I really liked how Jayla drew it and wanted to preserve its style completely because it stood out to me as the most prominent feature when I first saw her artwork. For this, I imported the image of Jayla's robot fish eye into a graphics editor and isolated the shape of the eye, then I uploaded the image to the 3D modelling software TinkerCAD to generate the 3D model. This was a quick and easy way to make a 3D model of a simple part from a real drawing, and because the softwares used are both, free any little inventors out there can do it too!
- Jordan
Making the Robot Fish - Part 1
Hello there! My name is Jordan Alexander and I am a science education facilitator at Ulnooweg's Digital Mi'kmaq initiative. My background is in Mechanical Engineering and in my spare time I enjoy skateboarding, surfing, hiking and using 3D printing to solve the simple problems in my everyday life and we're really excited to have collaborated with Little Inventors Mission to protect our Oceans and bring our selected student, Jayla's invention to reality.
Digital Mi'kmaq is an Indigenous-led initiative, a program of the Ulnooweg Education Centre that aims to create lasting foundational change for Indigenous youth and communities through the interplay of science, culture, education and innovation.
We've had so many wonderful inventions to choose from and when Jayla's drawing was selected, we wanted to take part in bringing her invention to life. We really enjoyed her idea and art style as it is very unique, imaginative and creative and we couldn't wait to talk to her and learn more about what inspired her.
As an Indigneous non-profit science-based organization in Atlantic Canada, ocean sustainability is always top of mind and is very important to our people. We wanted to bridge innovation and technology into bringing Jayla's robot to life - but in a sustainable and [non-harmful] way. We all know that plastic is an issue within our Ocean environments around the world and wanted to ensure that we still maintain the focus on protecting our oceans through this innovative project.
Digital Mi'kmaq delivers programs to Mi'kmaw youth in 3D modelling and 3D printing, we realized we could incorporate it into Jayla's project. But how do we do it in an eco-friendly way? Jayla's idea is based around to *remove* plastic from the ocean, and having decided on 3D printing we thought it would make sense to look into PLA, a bioplastic made from corn that is biodegradable. The plastic is also infused with a filler material of the powdered shells of scallops, a common shellfish (found in the ocean near Jayla's home) that further promotes the biodegradability/sustainability vision of Jayla. Additionally, the plastic has a pale gold color, identical to Jayla's artwork!
Our next step was to draft the body of the robot fish by designing a 3D model of it based on Jayla's design. During our video call with Jayla, she mentioned her inspiration for the shape of the fish came from a goldfish. Following that, we researched the different body-styles of goldfish and looked at other artwork of robot fish to determine the dorsal fin shape and general body shape of the style we were looking to incorporate into our design.
For now, I will just take this time to say Wela'lioq (thank you) to Little Inventors and NSERC on behalf of myself, Jayla and the Digital Mi'kmaq team in inviting us to take on this opportunity to engage youth in learning science and talking about how we can use innovation to help protect our oceans. We look forward to sharing our journey in bringing Jayla's robot fish to life and sharing it with all of you. Until next time, Numltis (see you later)!
- Jordan