Mr Oil Sucker
Denzel • Age 7
London, UK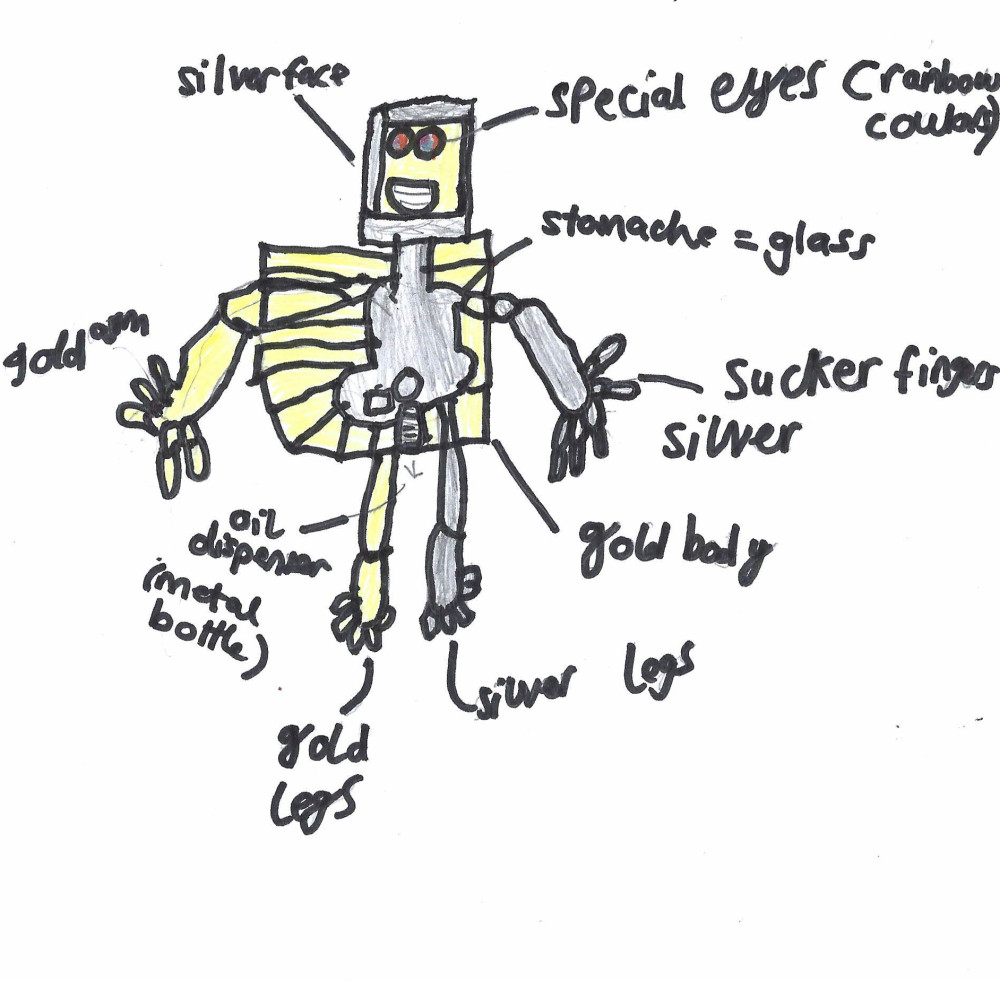 This idea has been made real
Mr Oil Sucker is an oil sucking robot who makes fast food healthy! Brought to life by BA photography student, Maddie Gordon from Ravensbourne University.
Check out her maker blog (tab above) to see her making process!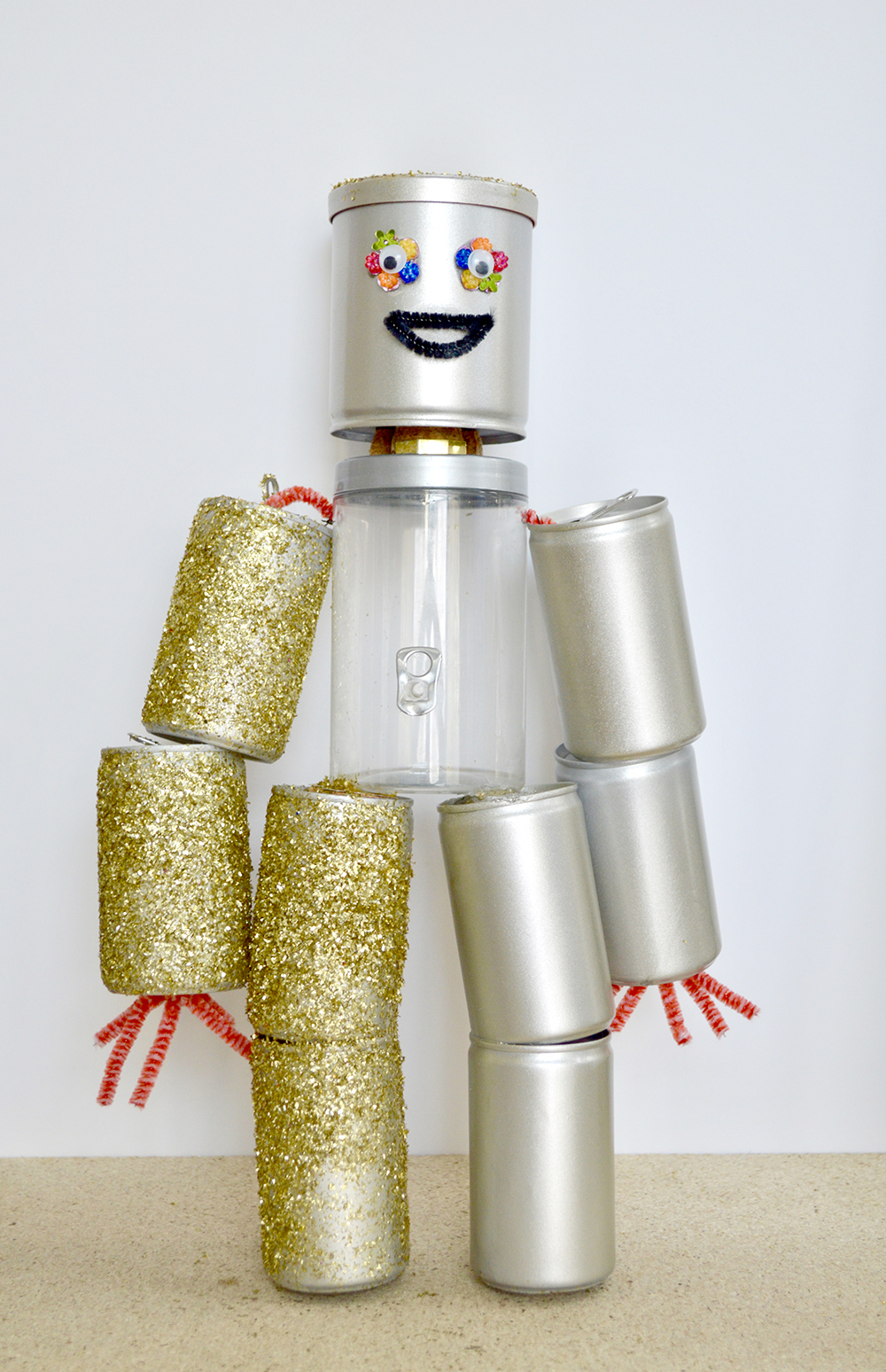 Maker blog entries
The Exhibition!
In preparation for the exhibition, I printed off my A2 poster which describes what my invention is, forwarded my stop motion animation to the show reel and packed up my robot in a box full of bubble wrap ready to take with me! I got to uni early and helped Erin and Chelsea set up the exhibition. I then set up Mr Oil Sucker on his stand and pinned my A2 print to the board. The only challenge I encountered was that mr oil sucker fell over at the beginning and his head fell off, but luckily we had double sided tape to mend him! I then also helped them out with printing off everyone's individual little inventors invention drawings from the first day at the school. I thought the exhibition looked great and I am happy that Denzel liked what I brought to life!
Idea Change! - Stop Motion Animation
Once taking all the images and looking through them, I felt they would work better in a stop motion animation video with music and sound effects! I also felt this would be more challenging. Therefore I asked a few of the fellow film students in my group to help me out with using Premiere Pro to put it together. I added the jpegs in and lowered the speed duration so it flowed well in a video. I then added sound effects for the oil being sucked up/poured, then its little tap being turned and also happy upbeat background music. I feel this added a lot to the video and I was super happy with the finished product. I also added a title page and credits page for the exhibition.
Flip Book Shooting
Once I had made Mr Oil Sucker, I was ready to shoot my stop motion animation for the flip book. I placed him in my kitchen, put my camera on my tripod and shot it bit by bit. I wrote out the instructions of what he was doing throughout on the board behind him with chalk. I felt it went successfully and now the next step is to put the images together in a flip book.
Robot Complete!
Carrying on from my last blog post on the design and making of the robot, I carried on adding the few final touches until it was complete.
To stay true to the original drawing Denzel did, I next had to make the other half of his body gold. Instead of using spray paint, to give it more texture I used spray glue and gold glitter! I did this to the left arm, left leg and then on the cap of his head as hair.
After letting that all dry it was time to attach the arms. I did so by making two small holes in the plastic jar (tummy) on each side. I then threaded through the wire that was connecting the arms together through one hole and out the other to connect it/hold it in place on each side.
Next was the hands/ sucker fingers. I used red and white stripped pipe cleaners to make them stand out. I cut them up in to sections and connected them to make it have six fingers on each side. I then attached each hand to the bottom of each arm using more wire and wrapping it through the button at the base to secure it in place. At the top of each arm I added in an extra piece of pipe cleaner as the shoulders, and to make it look as though the suction pipe cleaner was flowing up each arm (for when the oil is sucked up to go in to the tummy).
Next I added the belly button/tap. This is where the oil will come out and flow in to a reusable bottle. I did so connecting a small see-through plastic tube with a metal piece from a can (as the tap). I then super glued this piece on to its stomach.
Whilst this was drying, I super cut and glued some pieces of cork to the top of the stomach as its neck, and then glued the head on to this. Once this was all dry and I got rid of any excess glitter, I twisted the head on to the stomach and Mr Oil Sucker was complete!
Flip Book Shoot Preparation
Whilst finalising my robot, I have started to plan how I'm going to make my flip book. I have decided to have the location set in my kitchen, as that is relevant to where he will be working (sucking fatty oils out of foods). I have a chalkboard in my kitchen above/ behind the stoves/oven, which is what I want the backdrop to be.
I plan to draw in chalk behind the robot, and change it according to what he is doing to help explain the process of what he does. I will also have bottles of oil and food around him for contextual purposes.
In Photoshop I have quickly painted it in to show roughly what it will look like frame wise in the flip book:
Creation Update
Once I collected enough cans and drew up a sketch of what I wanted to create, I started making my robot! I got together some supplies, such as grey spray paint, metallic spray paint, super glue, cans, metal coil wire, coloured gems, googley eyes, coffee tin, see through jar and scissors.
I firstly started off by super gluing together two cans per leg. I then left that to set, and later super glued the see through jar on top as the stomach. I had to first removed the plastic covering on this. I had to leave this for 24 hours to become solid.
Once the bottom part was glued, I then took this outside and sprayed a base layer with the silver spray over the cans. I had to cover the stomach with kitchen roll to make sure no spray got on it. I then left these outside for a few hours to dry.
Once dry, I sprayed the 4 remaining cans I had left for the arms in grey as well and left them to dry. Once all the cans had set in the first layer of spray paint, I went over them in metallic spray paint to make them shine/glisten with a hint of gold, as Denzel wanted the robot to be gold and silver. This way the robot is both!
I then also sprayed the coffee tin I had saved for his head. Once that had dried, I began making the eyes. I glued together the little coloured gems using super glue in a little flower shape, as Denzel wanted it to have special multicoloured eyes! I then added a googley eye on top. I stuck both of these on to his head and let them dry.
I then moved on to his mouth and used a black pipe cleaner, bent and twisted it in to the shape of a smiley mouth and glued it to his face below the eyes!
Whilst waiting for that to dry, I moved on to the arms. I wanted the arms to have a bit of freedom/ wiggle room, so using a small screw driver, I inserted a small hole at the bottom of each can. I then pushed through some metal coil wire, threading it through both cans to secure them together. At the bottom, I threaded the wire through a small metal button to secure it to the cans.
- - - I next plan to attach the arms to the body using wire (wrapping it around in a circle to attach it), then glue the head to the body, add red and white stripped pipe cleaners as the 'sucker fingers' and also glue on the little bit of plastic to his bottom as a tap for the oil to disperse out of.
Design Update
I have been collecting as many cans as possible and feel I now have enough to start making my robot. As well as this, in my last meeting it was suggested to me to use an empty jam jar as the body. This was because I was unsure of how to show how it functioned with oil by using cans.
When creating my flip book, by using a jam jar I can video it filling up with oil and use screenshots for the book, therefore it will be easy to see the process. I could flip the jar upside down when filling up and film it that way too.
Inspiration/ Idea Generating
I have started thinking about how I can bring Denzel's idea to life. I want to look in to physically making the robot first. I think it would be really great to see it in real life. I have been brain storming ideas of what materials I can use. These could include tin (baked bean/ drinks cans), cardboard, wood, glass, ceramics, etc.
I liked the idea of using cans as they are already silver and potentially gold. I look at some images on Pinterest and videos on youtube of other people making creations out of tin cans. I then created a mood board of screenshots of things I liked!
A guy made a robot out of coke cans and I really liked this idea. I will start saving up cans at home from different drinks and attempt to make this! He did so using a ruler, super glue, scalpel, scissors, pliers and a black sharpie pen. When I do it, I think I would do it inside out, so the silver is on the outside, as Denzel wants it to be gold and silver. I could also use straws for the fingers and attempt to make a little plastic or glass bottle or the re-useable oil part.