Victoria & Albert Museum collects five Little Inventors inventions!
When a simple drawing can truly lead to great things! Little Inventors started life in late 2015 under the project name INVENTORS! when artist and designer Dominic Wilcox went back to his hometown of Sunderland and challenged 450 school children to think up invention ideas. Out of these funny, practical, bonkers or ingenious ideas, 23 were made into real objects by local makers.
The project in Sunderland caught the attention of curators at London's famous Victoria & Albert Museum. The V&A collects a broad range of visual arts and was drawn to the innovative nature of the project, bringing together the imagination and creativity of children with the skills and expertise of makers, under Dominic's inspirational leadership.
"We are delighted to acquire a selection of five of the inventions made as part of the first Little Inventors project in Sunderland. Dominic's work and the selected pieces show the great potential of design to change the world and the importance of inspiration and imagination. The War Avoider and Family Scooter, as well as the three others, will join the Design, Architecture and Digital department's collection of objects that tell stories about design and public life today." Corinna Gardner, Senior Curator of Design and Digital at the Victoria and Albert Museum.
Dominic Wilcox will be in conversation with Corinna at the V&A on the 21st September, 2017 during the London Design Festival. For tickets please visit here.
""This is such a great honour for everyone involved in the project, it was a fantastic collaborative effort between the brilliant children and the enthusiastic and skilful adult makers of Sunderland. Importantly it sends a powerful message to all children that their amazing imaginations can lead to great things. This great honour will inspire us to take Little Inventors to even more children around the world." Dominic Wilcox: artist, designer and Founder of Little Inventors
The results of first project, commissioned by The Cultural Spring, which is part of the Arts Council England's Creative People and Places network, were shown in a pop-up exhibition in January 2016 to great success. Television cameras from around the world visited the exhibition in Sunderland.
Due to this success and many enquiries from around the world, it was decided to turn the idea into an ongoing project called Little Inventors. Within the first year Little Inventors has developed projects within the UK and partnered in Canada with the National Science and Engineering Research Council (NSERC) to bring the project to the children of Canada. Little Inventors China has reached over 5000 children with our workshops in 8 months, many children in remote areas of China.
The project website www.littleinventors.org enables children to upload their invention ideas for positive feedback from the staff team.
The five objects that have been selected to join the V&A permanent collection are: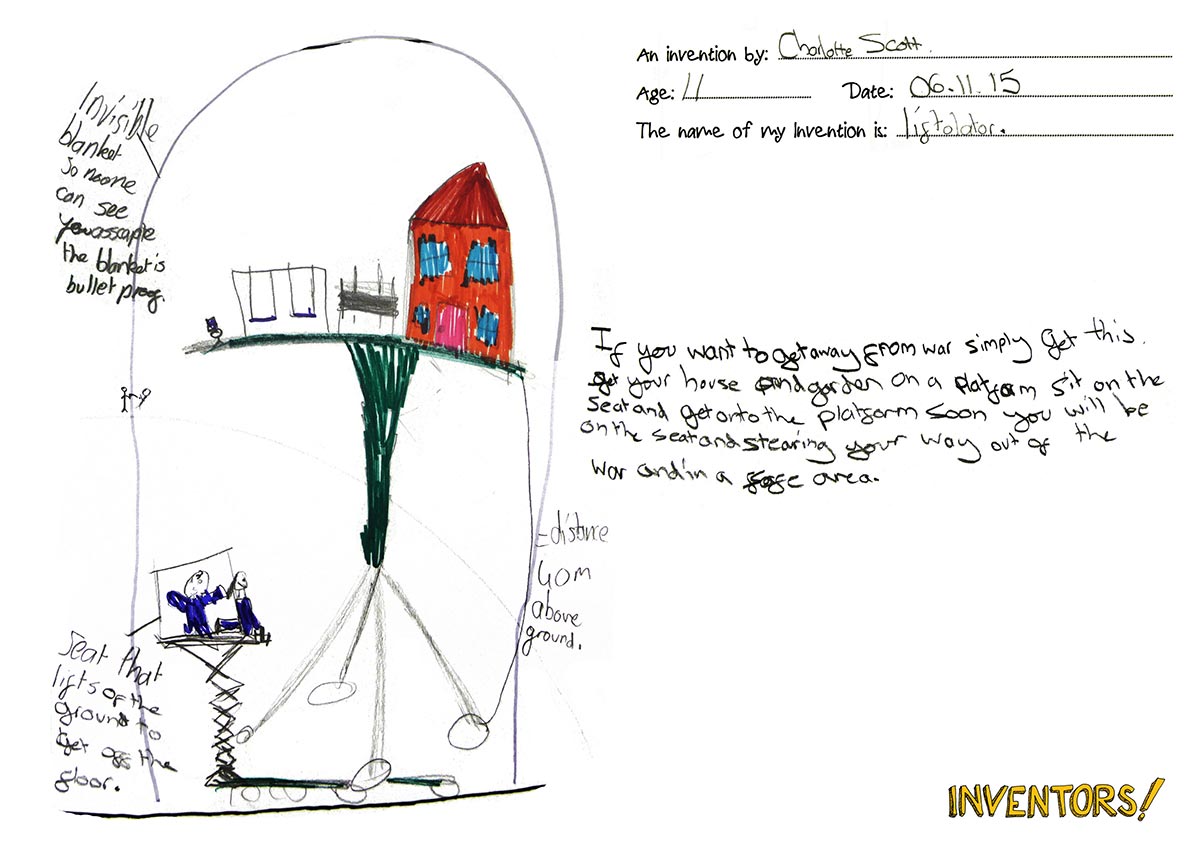 The Liftolator (War Avoider) by Charlotte, 11 - made by Erin Dickson from Sunderland Fablab.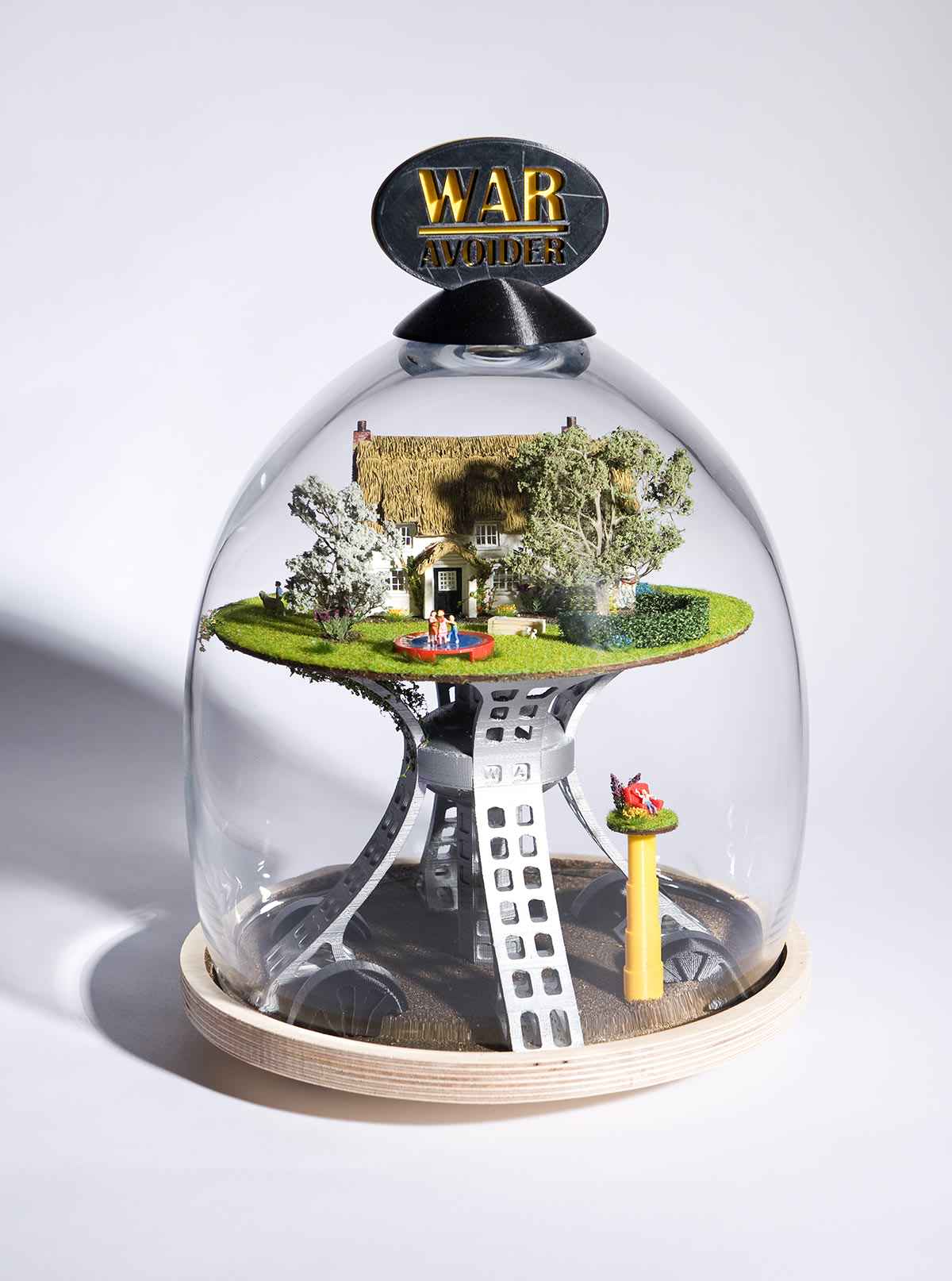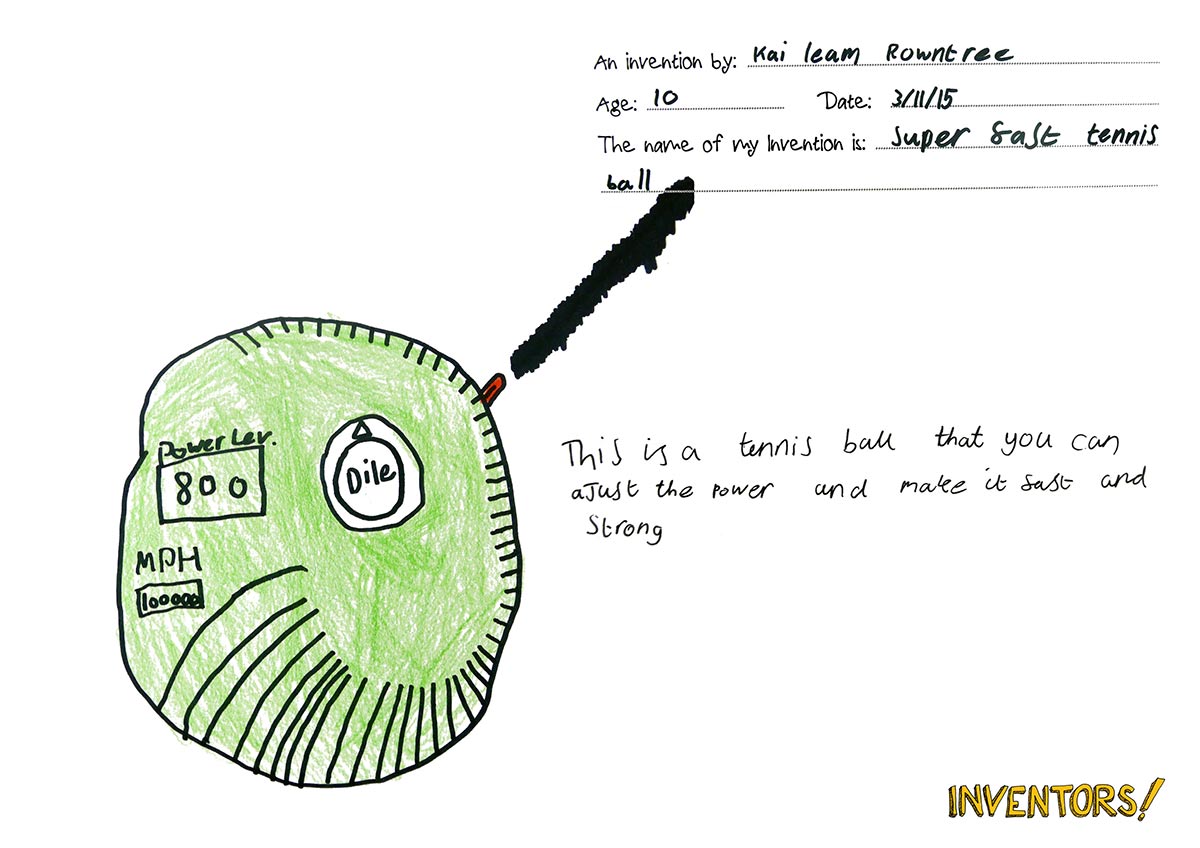 The Super Fast Tennis Ball by Kai, 10 - made by Carl Gregg from Sunderland Fablab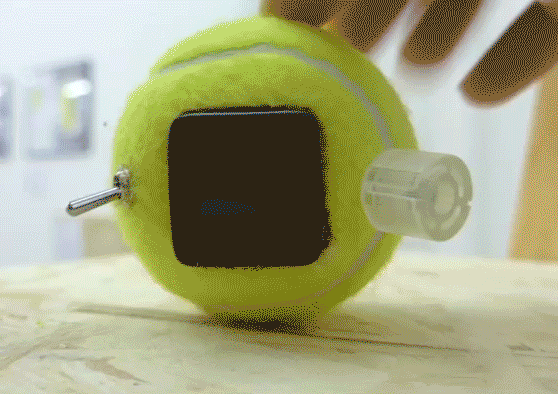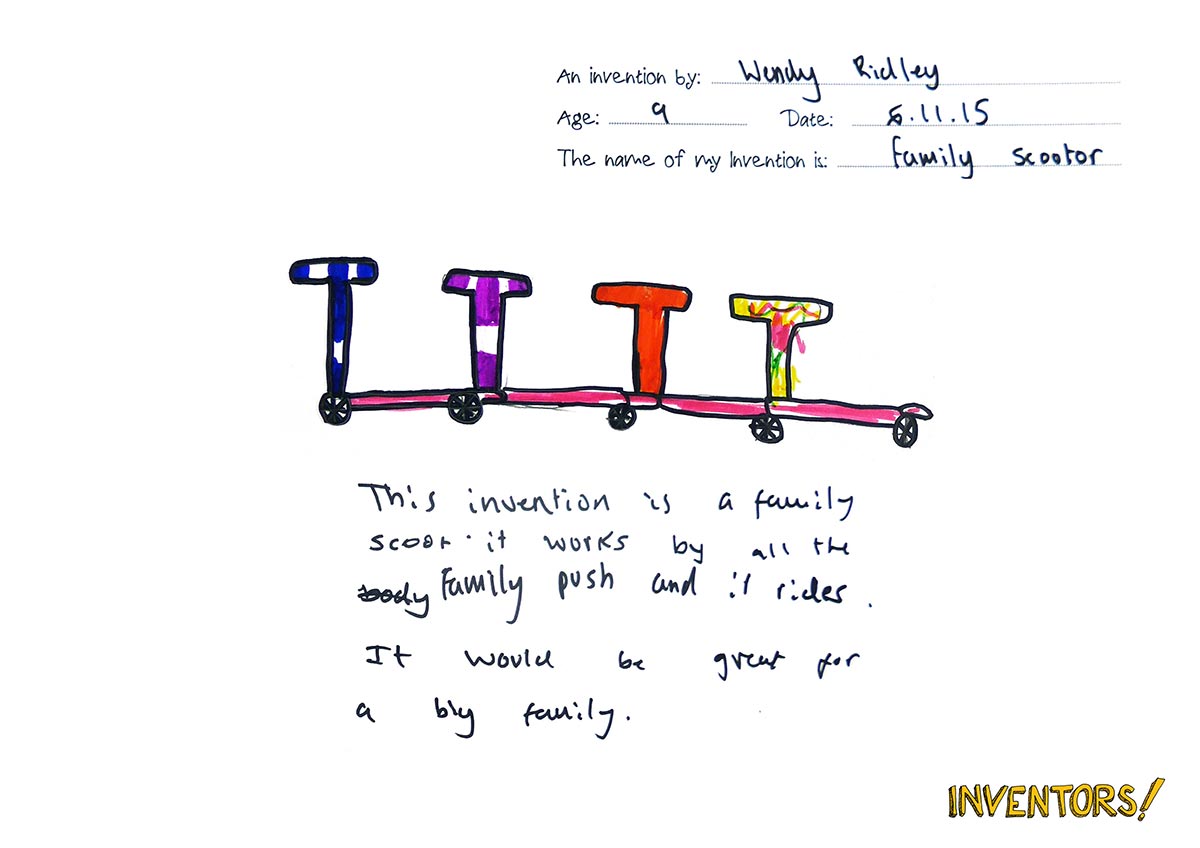 The Family Scooter by Wendy, 9 - made by Roger O'Brian and AMAP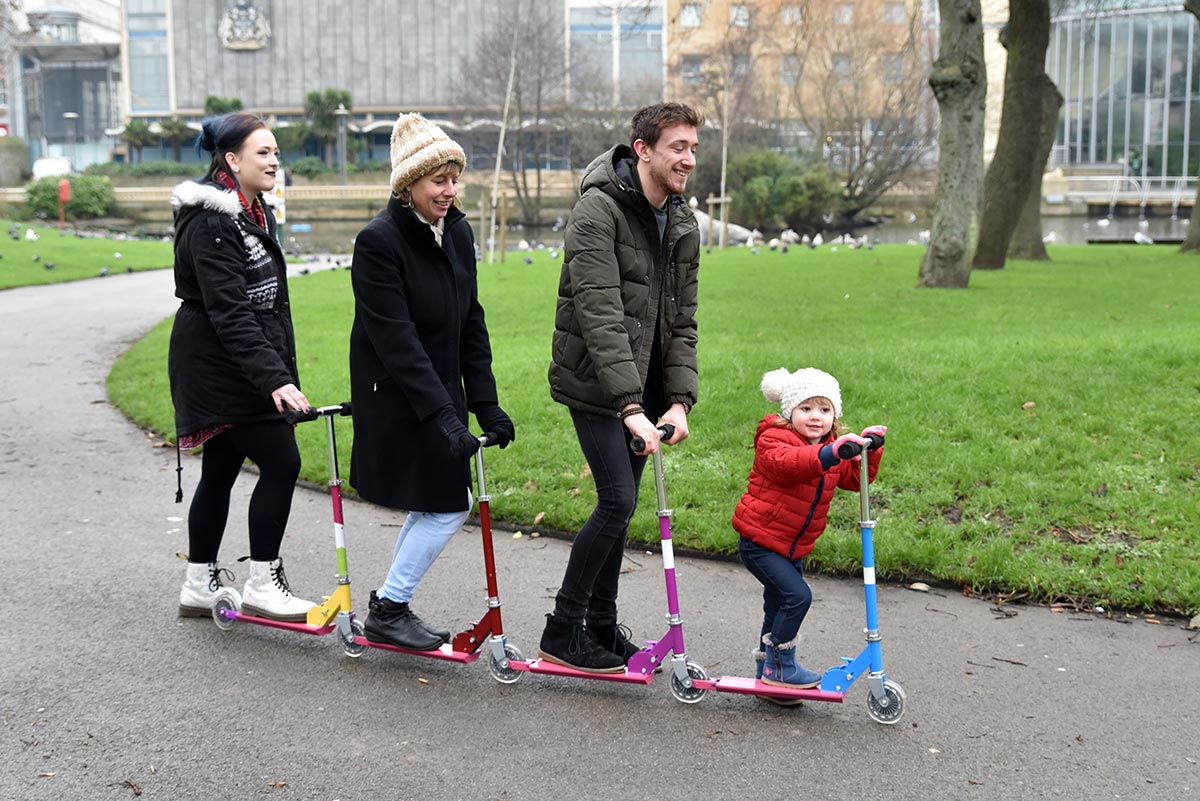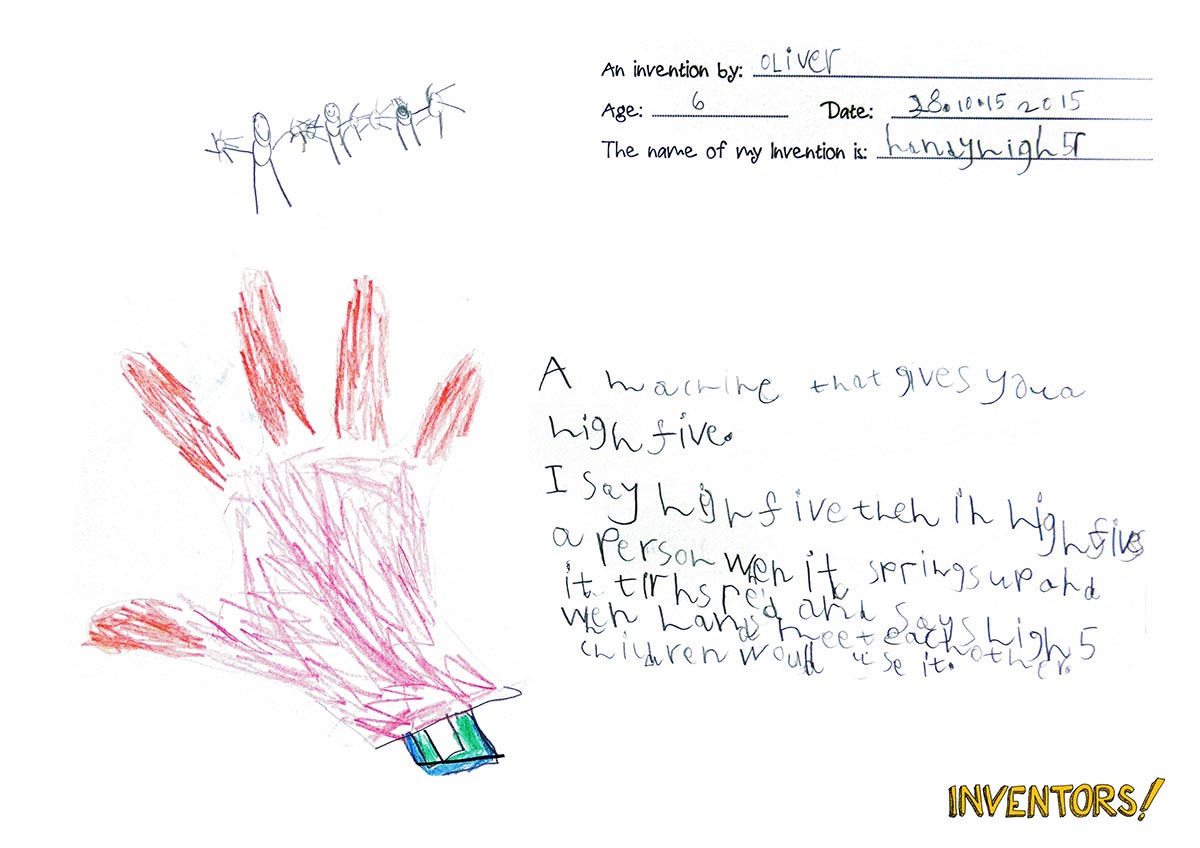 The Hi-Five Machine by Oliver, 6 - made by Tony Canning from Sunderland Fablab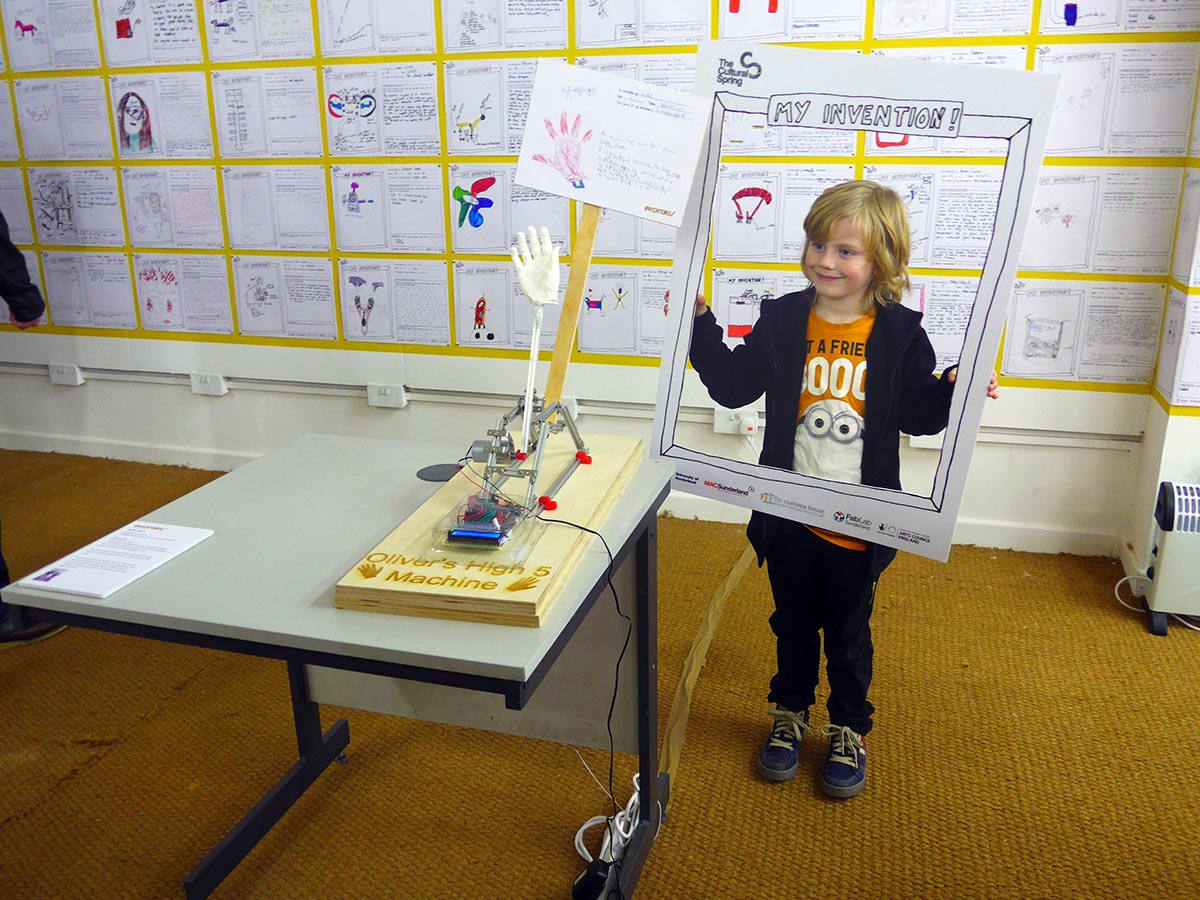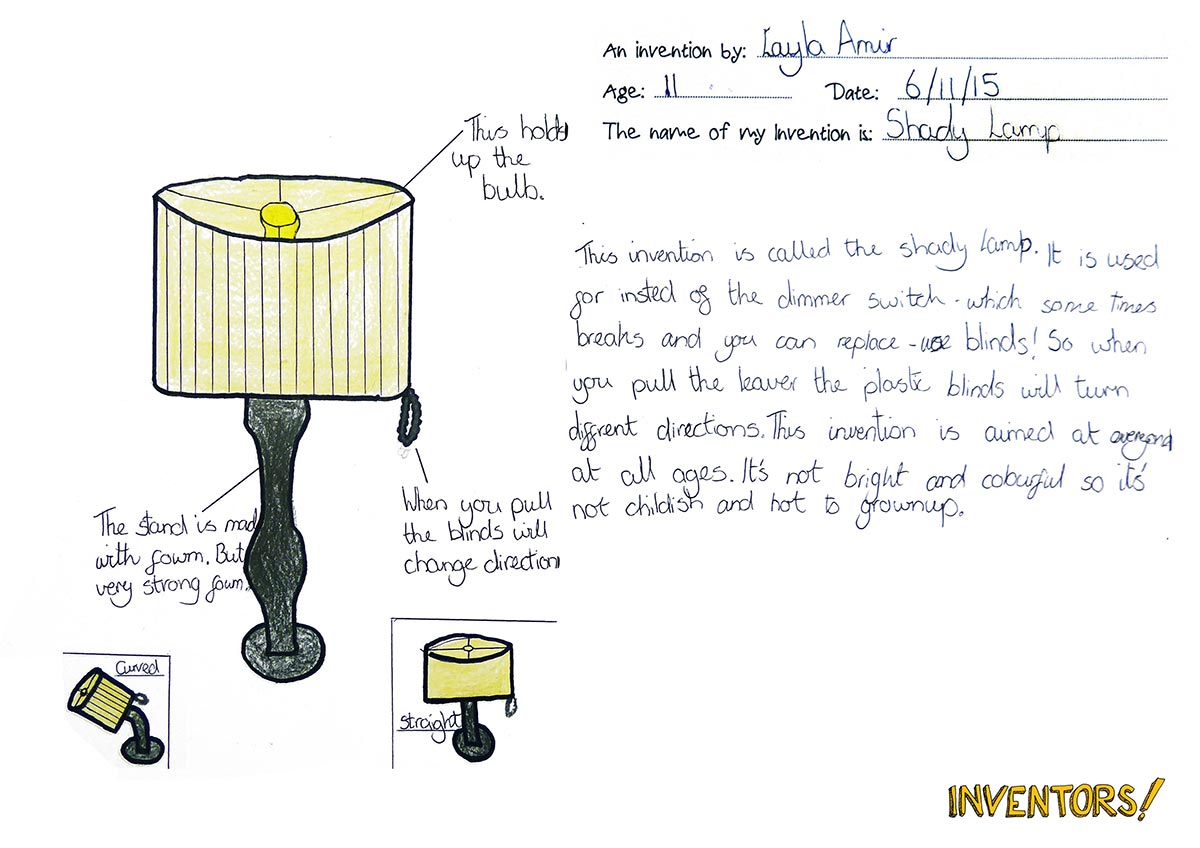 The Shady Lamp by Layla, 9 - made by Carl Gregg from Sunderland Fablab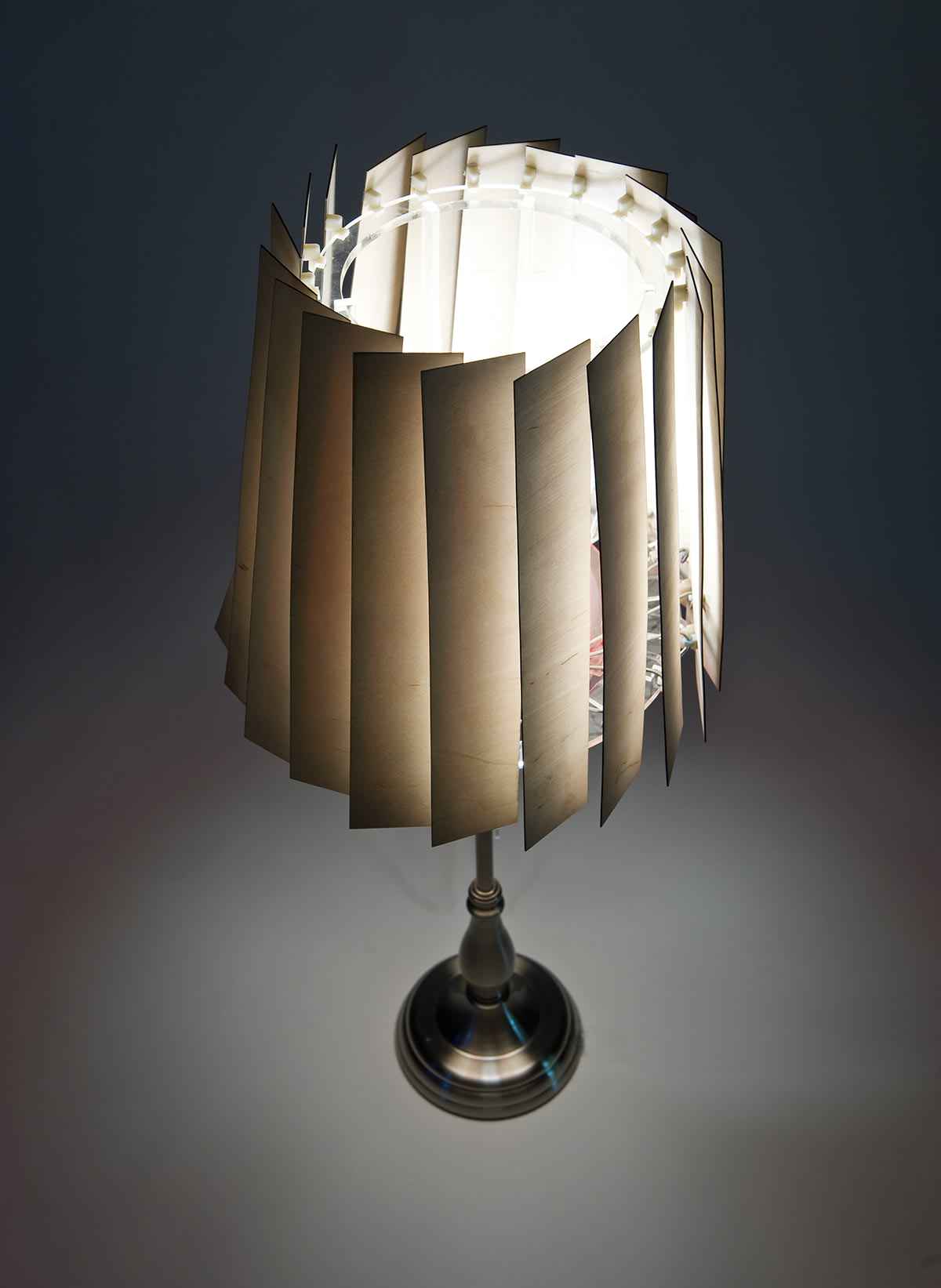 You can see more of the ideas from the first project in Sunderland on this page.
INVENTORS! (now Little Inventors) was made possible by Commissioners: The Cultural Spring: Rebecca Ball, Amy Taylor Artist and Designer: Dominic Wilcox Project Producer and Curator: Suzy O'Hara
FAB LAB Sunderland:Tony Canning: Handy Hi 5. FAB LAB Sunderland:Carl Gregg: Shady Lamp and Speedy Tennis Ball. FAB LAB Sunderland:Erin Dickson: Liftolator (War Avoider).
AMAP, Roger O'Brian:, Family Scooter, Leaf Catcher.
No Limits Theatre Co: Alan Parker: Glasswards.
Fibrestyle Ltd: Dave Park: The Paint Splatta Baby Sleeper.
Maker Space Newcastle: Alistair MacDonald: Self Hearing Earphones, Talking Lunch Clock, Illuminous Key.
Maker Space Newcastle: Brian Degger: Disco Headphones, Self Watering Plant Pot, Tooth-o-matic.
Wearside Glass: Norman Vietch: Ladybird Umbrella.
Attaya Projects: Lalya Gaye: Creakless Slippers, Hair Pull Monitor.
Kate Eccles: Clever Clothes.
3D rendered images of inventions: Solid Ideas: Andy Mattocks: Ezy Slice Fryer, The Licker, Flipping Rope, Food Cooler, Lyx Tea Spray, Life Band, Phone Friend, Light Machine Wig.
Little Inventors is a collaboration between the amazing imagination of children and the skills and experience of adult Makers and designers. The project aims to inspire and support children to express the far reaches of their imagination and to become the creative thinkers and inventors of the future. 
If you are interested in getting involved or finding out more please email us at hello@littleinventors.org