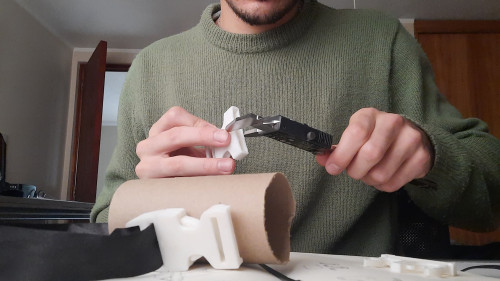 1 working on
Job role:Product Designer
Skills:I am a highly creative and solution-oriented individual with a strong proficiency in digital fabrication and 3D modeling skills. My passion lies in leveraging creativity and problem-solving acumen to bring innovative ideas to life, utilizing cutting-edge technologies in the realm of digital manufacturing.
As a Design Industrial graduate from Chile, I bring a solid foundation in innovative design principles and a passion for creating impactful products. Currently, I thrive as a Product Designer in a dynamic startup, blending my academic expertise with hands-on experience to contribute creative solutions and drive product excellence.
Recent blog entries
Construcción prototipo 1
Luego de la primera reunión con Diego, inventor de esta maravillosa idea, comencé a dibujar ideas de como podría adaptarse su invento a los collares de perro.
Decidí proponer un avance a modo de primer prototipo de baja fidelidad para luego tener una reunión con Diego y conversar sobre este primer acercamiento.
Pronto tenderemos la reunión en la cual detallaremos mejoras y Diego tendrá la posibilidad de elegir como seguir trabajando.