Invent something spectacular with wool
Use Ella's activity pack to learn how to weave with wool and create your very own woven tapestry. You will learn all about the amazing environmental benefits of using wool and you can also try other materials like an old t-shirt or jeans to make your beautiful artwork.
Ella Doran is a designer who loves to work in all kinds of materials. She designs her own patterns by taking photographs of things on the street and in her studio and prints them onto mugs, trays and blinds. She also gives old furniture a new life by covering it in funky material!
CHALLENGE PACK
Download the full set of activities to get started on this challenge.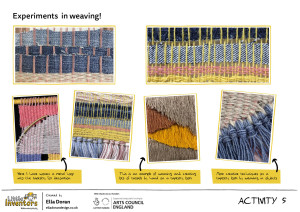 How to enter!
You can submit more than one invention idea.
Submit invention ideas through our upload page.
Draw your invention

on the worksheet of the mini-challenge of your choice

Scan or photograph the *whole* sheet

as straight on as possible
Each invention idea will comprise of an image of a clear drawing, the name, age and location of the inventor, the name of the invention and a description, and a contact email address.
Examples of scanned images
Great
Not so good