Invent something inspired by a day dream generator
Take the Maker Challenge set by designer-maker Emma Carlow! Emma challenges you to make your own day dream generator and then invent something inspired by your wildest dreams! Where will your day dream generator take you?
Emma is a designer-maker from East Sussex, UK. Emma loves to make all the time! She uses materials like cardboard and clay to make puppets, paper fans and all kinds of colourful magical creations.
CHALLENGE PACK
Download the full set of activities to get started on this challenge.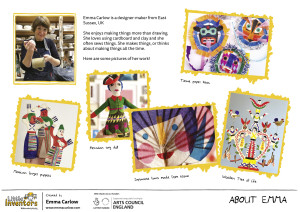 How to enter!
You can submit more than one invention idea.
Submit invention ideas through our upload page.
Each invention idea will comprise of an image of a clear drawing, the name, age and location of the inventor, the name of the invention and a description, and a contact email address.
Examples of scanned images
Great
Not so good