Invent a spectacular tiny home
Take the Maker Challenge set by designer-maker Ellie Birkhead and try five different activities along to way to get your creativity flowing and help you build up to designing an ingenious invention.
Ellie works with all kinds of materials from wood to clay. She often uses waste materials, such as plastic washed up on the beach or recycled glass bottles. She likes to get her hands dirty and try out all kinds of making techniques to help her come up with her designs.
CHALLENGE PACK
Download the full set of activities to get started on this challenge.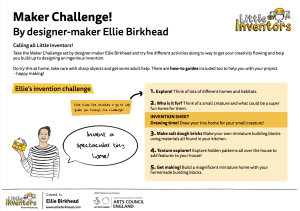 How to enter!
Don't forget to upload your invention sheet and a picture of you house model for a chance to win a Little Inventors Go Green! book. We can't wait to see your ideas!
You can submit more than one invention idea.
Submit invention ideas through our upload page.
Each invention idea will comprise of an image of a clear drawing, the name, age and location of the inventor, the name of the invention and a description, and a contact email address.
Examples of scanned images
Great
Not so good