Invent a sensational super shoe
Take the Maker Challenge set by Izi Morley and be the maker of your own sensational super shoe! Explore sensations in your feet, create your own materials and invent a shoe that the world has never seen before.
Izi Morley is a costume maker and fabricator for film and TV. She loves using different materials to explore
outfits and accessories for interesting and wacky characters. Sometimes the characters live in space, sometimes they are Victorian and sometimes they aren't even human!
CHALLENGE PACK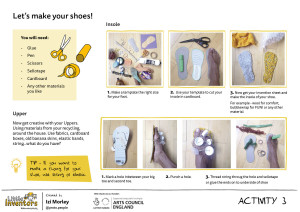 How to enter!
You can submit more than one invention idea.
Submit invention ideas through our upload page.
Draw your invention

on the worksheet of the mini-challenge of your choice

Scan or photograph the *whole* sheet

as straight on as possible
Each invention idea will comprise of an image of a clear drawing, the name, age and location of the inventor, the name of the invention and a description, and a contact email address.
Examples of scanned images
Great
Not so good