Invent a game using a ball and a stick
Take the Maker Challenge set by artist Anna Bruder. Using this activity pack design, make and play mini golf at home, at school, at your local park or anywhere you like! Then take inspiration from your mini golf game and invent your own new game using a ball and stick. Have fun!
Anna is an artist, theatre designer and prop maker living in London. She has designed and built awe inspiring theatre sets! She loves drawing, making and playing. Anna likes to invent games to play with her friends and family.
CHALLENGE PACK
Download the full set of activities to get started on this challenge.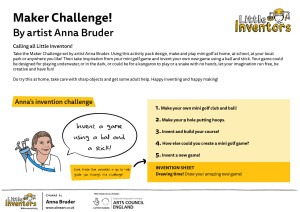 How to enter!
You can submit more than one invention idea.
Submit invention ideas through our upload page.
Each invention idea will comprise of an image of a clear drawing, the name, age and location of the inventor, the name of the invention and a description, and a contact email address.
Examples of scanned images
Great
Not so good