North 2030 challenge - Makeathon!
Sunderland, UK 24th March 2018 - 25th May 2018
Participants skilled-up in a sculpture masterclass with artist William Alexander and then modelled magnificent inventions, chosen from a shortlist of entries to our North 2030 challenge. The best renditions created in cardboard will be showcased in the Discovery Museum.
The two day Make-a-thon was a great success. The day started with artist Will Alexander, who makes amazing objects out of cardboard, giving an excellent presentation and introduction to various techniques used in sculpting cardboard. Each maker in attendance then looked over some of the best entries from children around the North and their inventions for the year 2030. The ideas selected included an underwater skateboard, a gun to shoot toy mice for cats to play with and a diplodocus shaped machine to cut your hedge and turn it into compost.
| | |
| --- | --- |
| | |
The underwater skateboard, by Fergus, age 9 from Newcastle Upon Tyne.
The Makers included an animator, a set designer, a theatre Prop maker, 3D printing experts and other skilled people from the region. They quickly set about the challenge of turning an unusual drawing into a 3D object using cardboard, knives and glue. The best models will be shown in the final exhibition at the Discovery Museum so everyone was extra focussed.
Will and the Little Inventors Chief Maker Gareth Lloyd were on hand to discuss any making problems and challenges. It was a great thinking challenge to work out how things would fit together and the shape that each part of the models should be cut and joined.
At the end of the two days the judges visited to select 3 winning prototypes to be shown at the Great Exhibition of the North. The judges were me, Keith Merrin (Chief Exec of Sunderland Culture), (Artist and Magnificent Maker) and Emily (A brilliant Little Inventor age 7).
There was heated debate and I have to say young Emily lead the way with her thoughts on each model. We decided to select 4 winning models as the standard was so high and also to look at finding local makers to turn some of the other models into real things.
Everyone was enthused by the 2 days and look forward to future Little Inventors events in the run-up to the Great Exhibition of the North.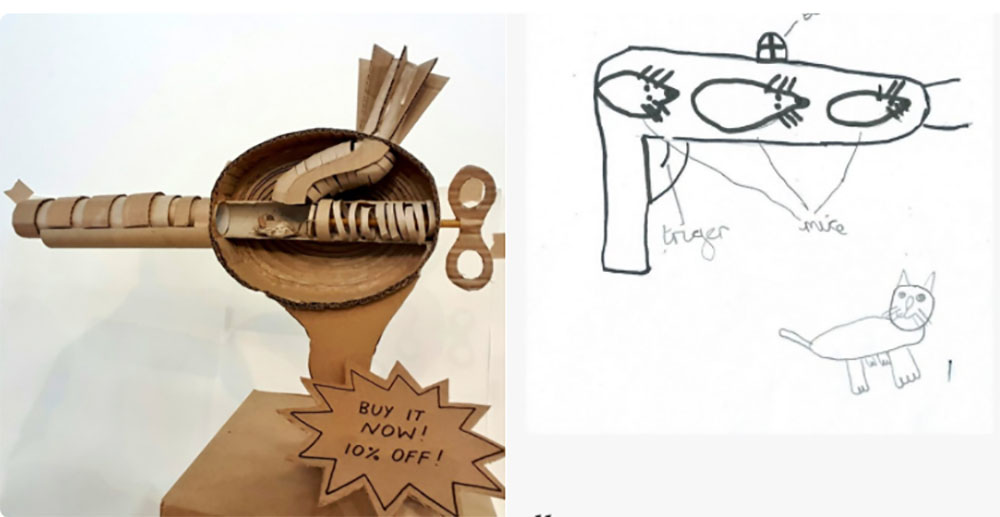 The super mouse shooter, by Ben, age 10, from Billingham. Brought to life by animator Chloe Rodham