NSERC/CRSNG has teamed up with the Canadian Space Agency (CSA) to bring a once in a lifetime initiative to Canada!
This year, Little Inventors SPACE invites children to turn their imagination to the challenges of living in space with the help of astronaut David Saint-Jacques!
Little Inventors encourage children to explore their own creativity and become the inventive thinkers of the future
Gives children the freedom and inspiration to use their imagination and their STEAM learning: the results are spectacular!
The year's focus is on Space - where innovation, opportunity and the unknown thrive!
The most ingenious ideas will be made into real objects and will be shown in a special exhibition at the Canada Aviation and Space Museum and even be exhibited in space in a special presentation to the International Space Station crew by David Saint-Jacques!
NSERC Space Challenge resource pack
Students learn about life in space then draw their invention ideas to make astronaut's life easier or more fun.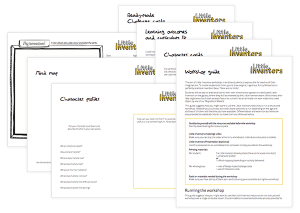 Launch your imagination with our space challenge!
Download